Tuesday, Wednesday or Thursdays between January – May 2023, online
Following on from the hugely successful Teacher Professional Development sessions in 2022, we will be running ten, fully funded Sustained Professional Development courses from January to May 2023.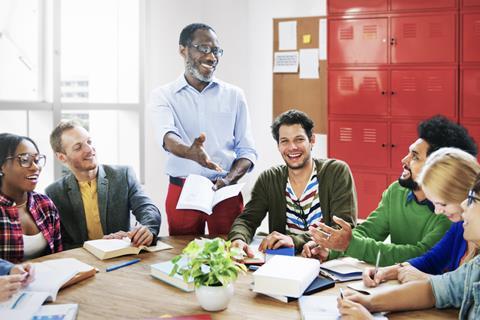 The courses will support practical skills, enhance pedagogical subject knowledge and offer teaching strategies for delivering key curriculum topics. We'll explore common misconceptions, help you contextualise tricky topics and provide links to classroom-ready resources.
Each course consists of four modules, delivered once a month on either the first full week of the month or the third full week of the month (except first week of January courses will run in the second week).These will be live online and interactive and run by expert teacher developers. There will be some gap tasks throughout the course. There will be one module for each course every month with no module being run in April.
Courses available
Key points
Attendees must attend all four modules for the course.
Once offered a place on a course there is an expectation for your to sign up as a Teach Chemistry member (registration is free).
You'll receive a certificate of attendance for your professional development portfolio/record.
We ask that you provide details of a member of your senior leadership team (SLT) when applying, eg head of chemistry/department, assistant headteacher, headteacher etc.
The courses are designed to support early career teachers, with the exception of Teaching strategies for experienced teachers.
Designed to focus on pedagogical content knowledge, except for Chemistry for science teachers, which does support subject knowledge enhancement.
Information
We strongly encourage cameras on throughout and microphones on for breakout rooms and discussions. Spaces are purposely limited to ensure impactful engagement during the sessions to build trust and working relationships with other attendees.
We have found that these courses are most impactful on your teaching if you will be able to take the learnings from the course and apply this knowledge during the same academic year you attend.
They are not suitable to those currently in their training year or who are a student teacher.
Research shows that support from SLT is a critical factor in successful professional development. Based on this evidence we will include them in relevant communications so that they are able to assist you in successfully accessing and putting into practice this professional development.
For more detailed information and to register your interest these in courses, either select the event in the drop-down box at the top, or click the event listing below.
If you would like to join these courses please register your interest ASAP. Please only register for January starting courses if you are available for all four dates. These sessions are not recorded. If you are not available for these dates, be among the first to find out when we have confirmed the dates for our summer and autumn 2023 courses by completing this short form.
Testimonal
Keira C: 'This course was a fantastic opportunity to reflect on student misconceptions, their sources and methods of correction. The instructors were knowledgeable, friendly and used examples of real student work, while the opportunities to discuss with other attendees were well-supported and helped to build a sense of a Chemistry teaching community.' - Attended Key Curriculum Topics course between March to June 2022
Sustained professional development courses overview
1

Currently reading

Sustained professional development courses overview

2

3

4

5

6