June and July 2023, online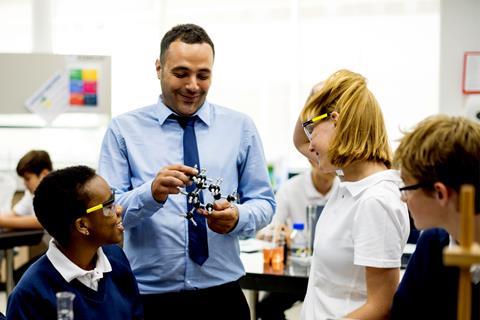 Our sustained professional development courses are fully funded. Delivered online, they offer the chance to explore and test out what you learn as you work through your chosen course sessions.
The courses will support practical skills, enhance your existing knowledge of key subjects (you should already have a basic understanding of the topics covered) and offer teaching strategies for delivering key areas of the chemistry curriculum. We'll explore common misconceptions, help you contextualise tricky topics and provide links to classroom-ready resources.
Each course is recognised CPD, so you will receive a certificate of attendance for your professional development portfolio/record once you have completed all of your chosen course's sessions.
These courses are now fully booked
Check out our September courses
Connor Andrews, England: 'The chance to discuss ideas surrounding ions and electrolysis was extremely useful as well as some ideas that I had not previously thought of to tell kids when teaching this topic.' 'I really do believe this course helped me develop my practice.'
Select a course to book:
Important details
Each module has four sessions, covering different topic areas. The links above provide more details – please choose the course that includes the topics for which you would like to develop new teaching strategies.
To qualify for the certificate of attendance, you must attend all sessions and complete all required tasks.
To book a course, you should be a Teach Chemistry member. It's free to join and comes with lots of benefits. Your school may have already signed up, so please check before booking.
The courses are suitable for all career stages including those currently completing their training year.
If you would like to join a course, please register your interest ASAP using the links above, and make sure that you are available for all of the dates in your chosen course. Once you have registered your interest, we will contact you to confirm if you have a place on the course.
Support from your senior leadership team (SLT) is a critical factor in successful professional development. When you sign up for a course, we'll ask you to provide details of someone in your SLT so we can include them in relevant communications.
The courses expect a basic level of subject knowledge, and are ideally suited if you are new to teaching chemistry, you have recently focused on another subject and would like to boost your knowledge, or you are returning from a teaching break.
We have found that these courses are most impactful if you are able to apply what you have learned soon after taking the course – ideally within 12 months of your attendance.
Session information
The opportunity to engage with your course tutor and to build working relationships with other attendees are important parts of these courses. Because of this, spaces are purposefully limited, we encourage you to have your camera on throughout, and to switch your microphone on too during any discussion.
Course modules are not recorded. If you are not available for these course dates, we will be running more in the autumn. Sign up to be alerted of new dates when they become available.
For more detailed information and to register your interest these in courses, either select the event in the drop-down box at the top, or click the event listing below.
Sustained professional development courses: summer 2023
1

Currently reading

Sustained professional development courses: summer 2023

2

3