Not sure where to go for advice on careers in chemistry? Help is at hand! Francine Atkinson explores the new RSC careers website
Are you interested in chemistry but not sure where it could take you? Trying to decide between university and vocational routes to pick the right course? With a wealth of careers information on the internet it can be difficult to sift through to find out what you need to know.
To make this process easier, the Royal Society of Chemistry will launch its new careers website in May. It is specifically designed to help students find out more about jobs in chemistry, the routes to becoming a professional chemist and the skills you need to succeed.
Chemistry careers
Chemists play a vital role in developing many of the everyday and cutting-edge products we take for granted and work in a huge variety of jobs. Most aren't confined to the stereotype of working in a lab and wearing a white coat!
The website contains profiles of chemical scientists who work in many different industries: you can use it to find out what jobs involve on a daily basis, what qualifications are required and where the role can lead in the future.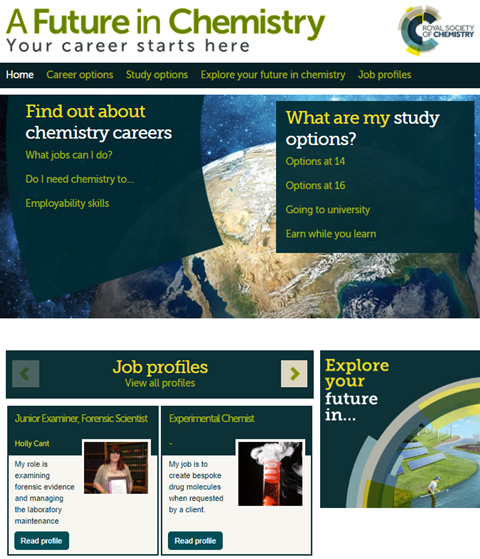 Inspiration
The world we live in is constantly changing and evolving, creating enormous challenges for our global society. The website showcases four of these challenges as 'futures in chemistry': human health, energy and the environment, lifestyle and recreation, and 'something different'. In each section you can explore the problems that society faces and find out about the chemical scientists who work in these areas.
Here are some examples of what you might find:
Human health
Chemists help to improve and maintain human health for all in a rapidly changing world. This is a highly rewarding area and makes a difference to millions of people's lives.
Medicinal chemists working in the pharmaceutical industry collaborate with biologists and physiologists. They are involved in drug development and clinical trials, developing, synthesising and testing lifesaving medicines.
For example, Andrew Holding is a chemist employed by Cancer Research UK. He is working to develop drugs to treat breast cancer by understanding how tumours spread and develop. Outside of the lab, he is involved in a variety of different science communication and outreach projects, including writing blog posts for the Guardian.
Energy and the environment
This is a rapidly expanding sector and chemists are working in new roles to develop solutions to the increasing pressures on energy, food and water, and to help society live more sustainably.
Careers in this area put scientists at the forefront of research: perhaps developing alternative energy sources such as artificial photosynthesis, or working to maintain the quality of essential resources such as our supply of drinking water.
Tom Munro is a sustainability consultant. He calculates the carbon footprints and environmental effects of products, services and businesses, and identifies how and where improvements can be made. Tom took A-levels in maths, chemistry and biology, followed by a chemistry degree at the University of Southampton.
Lifestyle and recreation
This challenge area explores some of the many ways in which chemistry makes life more enjoyable – from a cup of coffee to checking Facebook on a mobile phone. For example, chemical scientists create flavours for food and drink, develop the latest makeup ranges, design precision clothing and equipment for athletes, and analyse blood samples for banned substances.
Mah Hussain-Gamble is a pioneer in applying chemistry to the halal world. Her training as a formulation and product development chemist led to her founding her own business to develop and sell Saaf Pure Skincare, the world's first known organic and halal certified skincare range.
Something different
Many chemists have jobs that aren't based in a laboratory. For example, they ensure the chemistry portrayed on TV and in films is accurate. Other sectors include publishing, patent law, public relations, education and journalism.
So if you enjoy chemistry but have no idea what to do with a chemistry qualification then take inspiration from the website: find out about a range of people who use their chemistry skills and knowledge in unexpected ways.
Essential advice
As well as giving you an insight into the diverse roles of chemical scientists, you can also find out how to pursue a career as a chemist. You will be able to find information about work experience, how to develop essential employability skills, and work out which is the best university course for you. You will also find advice about apprenticeships and other routes to becoming a professional chemist that do not involve a university degree.
Find out more
Visit the RSC careers website to find out more about life as a chemical scientist and the pathways to a successful career.
Visit the website at www.rsc.org/careers/future to find out more about life as a chemical scientist and the pathways to a successful career.
This article was originally published in The Mole