I work in a publishing department, looking after scientific journals. The journals that we work on report new scientific discoveries that academics all around the world are making, they're really important so that researchers in the field can see what other people have done, see the results that they've got and know how to take the science forward in that direction.
What do you do in your job?
Academics submit papers to journals and we assess whether they are suitable for publication. If we think they might be suitable we pick some referees who are other academics working in the same field. They read the paper and write a report on it, recommending next steps.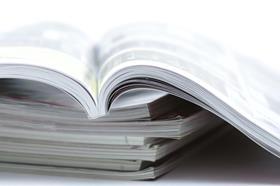 After a paper is accepted we edit the papers for english content and also consistency in the chemistry. After that the authors get sent a proof and ask us to make any proof corrections which we then apply to the manuscript. We publish the papers on the web immediately, and then gather them together in issues when they get published in print at a later stage.
I spend most of my time either working on a computer or in meetings with other colleagues, discussing manuscripts. I use excel a lot, and word. We have some specialist manuscript processing software that we use. It's a web-based programme which monitors the progress of papers throughout the system, so we can keep a track of where they are, whether they're with authors, with referees and at what stage they are so we can keep close contact with them all. You also need to have a very good knowledge of science, so that you know that the papers are good quality.
What do you enjoy most about your job?
The end process of publishing is the hard copy of the journal, and it's a great feeling seeing the hard copy land on your desk with your name in the front of it and you know you've had some input into those papers.
I'm quite a naturally organised person so I enjoy that element of the role and I do enjoy being a manager; I find that the extra bits that brings to the role makes it a more varied role. Interacting with lots of different people, which I find really rewarding.
How did you get into your job?
I always liked chemistry at school and I didn't really know what I wanted to do as a career, so I just carried on doing the subject I enjoyed as a degree subject at university. I liked chemistry but I realised that I didn't want to work in a lab but I wanted to stay in the industry, so I saw the job advertised for publishing in a science organisation and I thought 'that sounds perfect', it's staying in chemistry, working in an office, not working in a lab but still keeping completely up to date with all the latest developments of what's going on. I started as an assistant editor, which looked after the peer review of manuscripts and worked up from there.
We have to be chemists to be able to do the job so that when we're editing a paper we know the chemistry is correct and consistent throughout, as well as good English skills to be able to make sure the paper's written well.
What advice would you give for people wishing to enter your career area?
Chemistry really does open up a lot of doors, it gives you a lot of skills that you can apply to all sorts of different things, you have to be literate and numerate so that it opens doors into a wide variety of careers whether they be science-based or you take them into a different industry.
First published 2013