Showcase science, a national one-day conference for post-16 students and their teachers, will be held on Thursday 15 March 2007 at Oundle School, Northants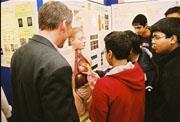 Part of the UK-wide programme of activities designed to celebrate National Science and Engineering Week (9-18 March), this biennial event aims to give sixthformers a wider experience of contemporary sciences.
Keynote speakers on the day will include, among others, bioinorganic chemist Professor Peter Sadler, Professor Cheryll Tickle who is an expert in developmental biology and astronomer Professor Andrew Fabian. In addition to the plenary lectures, scientists from UK universities will be on hand to explain the intricacies of modern science and technology through interactive exhibits. This science fair also offers sixthform students the opportunity to contribute to the day's programme. Students studying A-level sciences are invited to submit, either as individuals or working in small teams, posters and verbal presentations on topics in biological, chemical, physical and applied sciences. Cash prizes are on offer to those students invited to present their work at the meeting.
Travel and accommodation bursaries are available for individual students and school groups. However, students that cannot make it to the venue don't have to miss out because the event will be broadcast via a live webcast as well as radio coverage of a discussion on current issues in science and technology such as climate change and human reproductive medicine, led by experts in communicating science.
The deadline for students' submissions is Friday 8 December. For further information on the event, details of the bursaries and to register your students contact Dr Mo Afzal, Warwick School, Warwick CV34 6PP (Tel: 01926-735466).