A series of fascinating webcasts on a diverse range of chemistry-related topics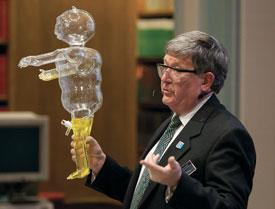 A series of fascinating webcasts on a diverse range of chemistry-related topics has been made available by the Royal Society of Chemistry (RSC). These on-demand broadcasts are published on The Reaction, the RSC's website for engagement and inspiration with chemistry, and provide a useful resource for teachers.
The webcasts are live recordings of public lectures held at The Chemistry Centre in London. Each lecture is given by an expert in the field, lasts around an hour and includes questions and discussion from the audience. A wide range of topics, including onions, perfume and chocolate are already available.
In his lecture 'Materials Chemistry at the Origin of Life' Tony Ryan explains how we can use nanotechnology to shed light some of the most fundamental questions such as how did life begin on Earth? How might it have begun in other environments?
'Crime Scene to Court' by professor of forensic science Peter White, gives a fascinating insight into what really happens in forensic science investigation. The webcast covers the processes from preservation and analysis of the crime scene to the deductions possible from traces of bodily fluids analysed in the forensic laboratory.
Teachers and students can use the on-demand service to simultaneously see both the video feed of the lecture and the presenter's slides.
The Chemistry Centre public lecture series is held on the first Thursday of the month and attracts a wide audience from the public, education and industry. Future lectures include energy storage devices, a live analysis of the materials in a mobile phone, and the work carried out at Diamond Light Source. More information is available on the RSC website.
The webcasts are available on the events pages on The Reaction.
Related Links
The Reaction
(Link no longer available)
Public Events at the Royal Society of Chemistry
Join the latest experts at the Royal Society of Chemistry in a variety of exciting and understandable events for the public