Catherine Imlah is the head of science and chemistry at Albyn School in Aberdeen. She received funding from the Primary Science Teaching Empowerment Fund in March 2022 to help with the organisation of chemistry practical skills sessions for Primary teachers. She chatted us through the project, passing on her tips for anyone considering applying for the Fund.
What made you decide to apply for the Fund?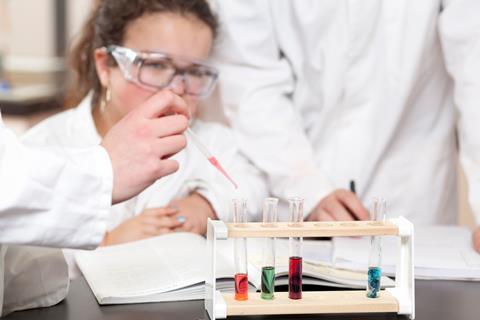 I work in an independent school which has pupils aged from 2–18 years old. The pupils get a specialist science teacher from Primary 6 upwards but access to resources and adhoc lessons from any age. In the local authorities, they are limited in specialist teachers and I wanted to help support science education in all schools. The Fund inspired me to think outside of the box and challenge me to try something new.
What was it that you wanted teachers to get out of attending your event?
I wanted the teachers to leave feeling inspired and confident about including practical chemistry in their lessons. Scientific language is so important and I hoped to raise awareness of this so it can be embedded in pupils learning from a young age.
How did you go about planning your event?
I created a resource booklet for the experiments to be covered, with links to the science outcomes and benchmarks. I really wanted everything to be easily accessible for the teachers, so the resources were everyday items or things which they could collect from the recycling.
The experiments were trialled and class sets of the equipment purchased so the teachers could go away with a full set of science lessons to try with their classes. I aimed to make the lessons suitable for all stages of primary, this meant including additional suggestions to expand the activities and links to additional resources.
My school was incredibly supportive in allowing me time to run the sessions during the school day. I was also lucky to have support from my department to bounce ideas off of and to help during the running of the events.
How did you approach your invited guests and get them on board?
We emailed all primary schools in Aberdeen city and Aberdeenshire, inviting them to attend the event. The demand was overwhelming and I had to run a waiting list for both events. The teachers that attended were asking about follow up events which highlights the gap in specialist science teaching in our local area.
What did you get out of running the event?
I got so much more out of the experience than I had expected. It was initially quite nerve wracking to try and teach primary school teachers who I didn't know. The last thing I wanted to do was insult them with the level I pitched the event at. Ultimately, I shouldn't have worried as the feedback was fantastic. I gained a lot of confidence in my ability to teach other adults and a greater understanding of what expectations primary teachers have placed upon them. It renewed my enthusiasm for teaching, in particular primary science.
I also gained a lot of insight from the primary school teachers, who explained what they currently did for their practicals. It allowed for an open discussion about ideas and links to other aspects of the curriculum.
Do you have any advice for teachers who are considering applying for the Fund and running their own event?
My advice would be, if you are thinking about it, just do it! When the application was accepted I had a moment of 'what have i agreed to'. But while it took a lot of work to get everything organised, it was such a worthwhile experience for all involved. I hope to continue with more of these sessions this academic year.