Cristina is developing life-changing technology that can extract disease from the body
Dr Cristina Blanco-Anduja is Chief Technology Officer (CTO) at Medisieve, helping the company deliver its vision to build a system capable of detecting a range of diseases.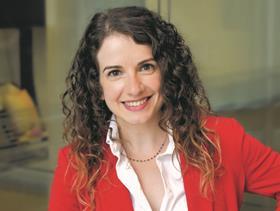 As a CTO of a medical device company, a lot of people are surprised to find out that Cristina's background is in chemistry.
Growing up, Cristina had a passion for science, but with her interests primarily in biology and physics, she didn't expect it to lead her to help Medisieve develop its life-changing technology with the ability to extract the unwanted disease from the body.
Choosing chemistry
"I would not say I chose my exact career path, but I have always followed my passion and what I enjoyed doing. When I was 17, I was completely fascinated by biotechnology. I loved the idea of intertwining disciplines in a multidisciplinary degree that would bring together engineering and biology.
"However, things did not go the way I planned, and I did not get into the university I wanted. After that, I decided to study chemistry as I wanted to start my studies with a degree that would give me a solid foundation and then later pivot to a discipline that was closer to what I initially planned.
However, chemistry had a lot more to offer than I could ever have imagined. I learned about nanochemistry, new materials and a whole new side of the subject that I had never encountered during high school."
Cristina went on to focus her Master's degree project on the world of nanotechnology and the use of magnetic materials for healthcare applications – a decision that opened a whole new chapter in her career, and in her life.
She continued research in this field during her PhD at University College London (UCL), further specialising in the use of magnetic particles for magnetic hyperthermia - a revolutionary treatment for cancer. Although she started her studies in chemistry, Cristina was able to combine her joint interests in physics, biology and chemistry in a multidisciplinary project that aimed to save lives.
After realising her passion lay outside academia, Cristina joined the founder of Medisieve, a start-up, as its second employee, acting as both a specialist in magnetic particles for healthcare applications, but also as someone willing to learn and grow with the company. She's been part of Medisieve for over three and a half years and over this time her job has profoundly changed.
"At a young age, I looked for career guidance from my family and friends. My sister was definitely a point of reference to me as she studied biochemistry and was very passionate about her career.
"Later on, during my postdoc, I used the career guidance services from the Royal Society of Chemistry. Having that conversation was very helpful as it guided me through the process of evaluating all the transferable skills acquired during my studies. I also reached out to my network to find other people that had transitioned from academia to the public sector to learn about their experiences."
Cristina's advice on choosing a career
"The most important thing to realise is that it is not down to one decision – rather it's a journey. Every step of the way will change who you are and how you approach things."
- Studying for a degree is hard work, so choose something you like and you feel passionate about.
- Multiple paths will lead to the same career, so do not feel like any of your decisions is final and unchangeable.
- You do not know today what you will like in ten years, so the most important thing is learning to adapt.
- Be open to new things and challenges. You never know if your passion is yet to be discovered. I did not know anything about medical devices five years ago, and now I am grateful to be involved in this field.
- Continue to learn and grow every day.
First published 2020