Layla builds cutting-edge AI algorithms that improve the drug discovery process by exposing unsafe medicines early on
Hi, I'm Layla (she/her/hers) and I use algorithms and machine learning to help drug discovery companies predict the toxic side effects of their medicines.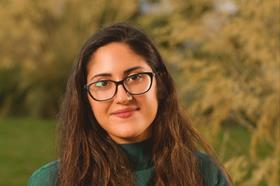 What does a co-founder and machine learning lead at Ignota Labs do?
At Ignota Labs, we use machine learning and algorithms to improve the drug discovery process. We build tools powered by artificial intelligence (AI) that can predict the potential toxicity (poison) of a medicine based on its chemical structure as well as understand which parts of the medicine could be causing the toxicity.
As we are a very new, small company, I do lots of different things. Part of my role is to work with the other co-founders to raise funds for the business and manage relationships with investors and collaborators. As machine learning lead, I decide how we apply and deliver artificial intelligence to help drug discovery companies predict the toxic side effects of their medicines. The machine learning strategy needs to align with our business objectives and I also manage the development team and get stuck in with the coding and model building.
How does your work affect the world around us?
Building AI tools that can predict the toxicity of a drug early on in the discovery process means that unsafe medicines can be rejected before too much time and money has been spent on them. As a result, the work I do is making the discovery of life-saving medicines faster, safer and less expensive.
Salary range and qualifications required
Salary range: £40K plus (dependent on experience), plus equity in the company.
Minimum qualifications: You will need a PhD in a life sciences field where you have applied data science or machine learning techniques. A background undergraduate degree in life sciences such as chemistry, biology or medicinal chemistry will give the foundational skills required for the role.
What is your typical day like?
I could be coding our machine learning platform, delivering on client projects, setting up our cybersecurity infrastructure or meeting with investors or potential partners. It's important to be able to adapt to whatever is most crucial for the business at that point in time.
What do you like most about your job?
It's very exciting to set up a company as there's so much to learn about and do. No two days are the same. I also love being able to make a real-world impact by de-risking drug discovery and saving money, lives and the planet by reducing failures.
What skills do you need for your job?
My job requires a variety of skills including technical skills like data science, coding and machine learning to build our platform, as well as communication, problem solving and team working/management to ensure that the company runs effectively.
What inspired you to work in chemical science?
I chose chemistry mainly because I had a brilliant teacher at school. Chemistry is "the central science" and I found it fascinating to learn about the universe's building blocks – the atoms and molecules that make up everything around us. I'm motivated by the constant progress in the field and how chemistry can be used to solve problems such as health and environmental issues.
How did you find your job?
Towards the end of my PhD, I received a message on LinkedIn from our scientific lead, who had found me due to my research applying data science approaches to drug discovery. After hearing about the vision of the company, I was excited and decided to go for the opportunity.
How did your qualification help you to get your job?
My undergraduate chemistry degree gave me the foundational knowledge of chemistry – in particular, medicinal chemistry and the chemistry/biology interface – and allowed me to take a year in industry where I worked for a drug discovery software company and discovered my love for computational chemistry and machine learning. During my master's degree (MChem) I honed my computational skills further with a computational project, then went on to my PhD in applying data science and machine learning techniques to drug discovery, giving me the deeper skills and knowledge required for the role. During my PhD, I collaborated with startups, industry and academic groups which improved my ability to work in a team and apply my research skills to a real-life setting. I also spent some time running the annual entrepreneurship competition at my college, which introduced me to the world of commercialising research and starting a business.
What barriers did you encounter on your journey into your role?
The biggest barrier for me was the fact that there were many aspects of the role in which I had no previous experience. For example, business, cloud infrastructure security or managing a team. To overcome these barriers, it was important for me to think on my feet and be quick at adapting and learning new things, which I enjoy doing anyway.
It was also important for me to increase my confidence to be able to communicate effectively with potential investors or partners and represent the company well. I try not to let the fact that I'm a woman in tech be a barrier, as we are very much under-represented in this field, so I make sure to network and connect with other female founders in the field so I'm part of a community.
What advice would you give to a young person considering a career in your field?
If you are considering a career in the chemistry/machine learning interface, I would definitely recommend learning how to code, and this is a skill which is becoming increasingly valuable in all fields. If you're thinking about starting your own company one day, I would recommend that you take some courses in business or entrepreneurship as it is important to have knowledge of how to build a successful company considering things like market fit, competitors and finances.
What are your plans for the future?
In the future, I can see myself staying on the entrepreneur journey and starting a few more companies in the health or environment spaces. I could also see myself becoming a consultant to help other AI-in-chemistry startups succeed because I really enjoy the fast-paced and exciting environment of an early-stage startup and I'm passionate about new innovations in AI.
Layla Gerami, co-founder and machine learning lead at Ignota Labs.
Published March 2023