There are fewer undergraduates studying chemistry. Should we be concerned?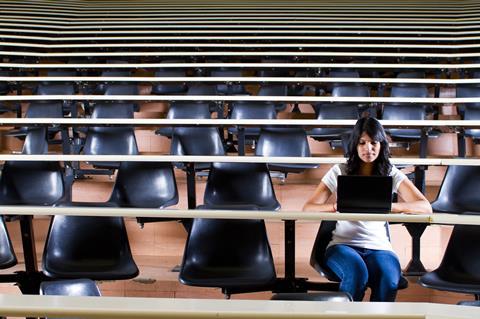 In 2017, applications to study chemistry at university declined for the second year running, despite an increasing number of students taking A-level chemistry. It's too early to know accurate figures for 2018 but it looks like the trend may continue. Should the chemistry community be concerned, and what's behind the drop in interest?
In 2017, 26,945 students applied to university to study chemistry, according to UCAS figures. This is down 8.5 per cent on 2016 and down 13.4 per cent on 2015. Applicants accepted on courses – students apply to five but accept only one – were 5,000 in 2017, down 4.9 per cent on 2016 and down 9 per cent on 2015.

UCAS has not yet broken down figures for 2018 but 99,660 students applied for physical sciences [pdf], which includes chemistry. This is down 5.7 per cent on 2017 and down 8 per cent on 2016.

This decline is happening against a backdrop of a fall in applications across the sector. In 2018, UCAS reports that 636,960 people applied to university, 2 per cent fewer than in 2017. Across all ages, there were 511,460 applicants from the UK, a 3 per cent decrease compared with 2017. One factor is declining numbers of 18 year olds (down 2.3 per cent [pdf] this year in England).

'The decreases in numbers are very concerning and should be raising red flags at this stage,' says Professor Emma Raven of the University of Bristol, formerly head of chemistry at the University of Leicester. 'Since the financial stability of departments is linked directly to student numbers, we need to take actions to ensure that the long term health of chemistry departments is not threatened by this decline. Closures of chemistry departments, which we have seen in the past, is not something that any of us would want to go back to.'
Professor Andrew Parsons has been chemistry admissions tutor at the University of York for over ten years. The continuing drop in the number of UK 18 year olds, coupled with the expansion of university places, means the current situation is highly competitive, he says. 'The chemistry community should be concerned. If this trend continues we could see closures like those of 26 departments between 1996 and 2007. At the time, closures were blamed on a funding squeeze and a 25% drop in applications between 1999 and 2004.'
What's behind the drop in interest?
Andrew believes that students may be put off applying because of perceptions that chemistry is a 'hard' subject and a boring one. 'Media plays a big part in many students' choice of subjects,' he notes. This may be negative publicity such as plastic bottles polluting the oceans and harmful effects of 'chemicals', or positive inspiration from shows and films such as CSI, Breaking Bad and Harry Potter.
He also wonders if the changes to the A-level chemistry syllabus may be having an effect on university recruitment. 'I have no evidence other than the timing – the new course changes were introduced in 2015 and we have seen a big drop in 2016–17. I would be very interested to hear what chemistry teachers have to say about this.'
David Read, professorial fellow in chemical education at the University of Southampton, says that anecdotal evidence points to engineering and physics, as well as some branches of biological sciences, becoming more attractive options in recent years. Another reason is the increase in the number of places for medical students, which has further depleted the pool of potential chemistry applicants, he says. And, if this expansion continues, David adds, it could further damage recruitment prospects.
Jon Rourke, chemistry admissions tutor at Warwick University, agrees. '[Chemistry] numbers are dropping because places to study medicine used to be capped, but last year the government increased the number of places. There is a drive to recruit more medical students and they all need chemistry.' So more students taking A-level chemistry does not necessarily mean more go on to study chemistry at higher education.
David is also concerned that a number of universities opened (or re-opened) chemistry programmes in recent years when student numbers were higher. 'In an environment where the pool of applicants is diminishing, and the top choice destinations are still taking very large numbers of students, this could leave those departments with smaller intakes in vulnerable positions.'
David points out that after the last wave of department closures, the government provided funding for national programmes such as 'Chemistry: The Next Generation' and 'Chemistry For Our Future', and the numbers of applicants increased (although cause and effect is difficult to ascertain). 'Any interventions to address the current problem would need national coordination, if not dedicated support and resourcing from outside of the HE sector itself. It seems that many institutions are reluctant to spend on anything other than infrastructure at the moment, given uncertainty about future funding, student numbers and pensions, and chemistry may not be deemed to be a priority by many senior managers.'
For Andrew, part of the solution might come from teachers. 'There is no doubt that students being taught by passionate, enthusiastic and chemistry-expert teachers is crucial,' says Andrew. 'The continuing difficulty in recruiting STEM teachers is a concern, and statistics published by the Department of Education showed that last year around a quarter of chemistry teachers did not have a degree in chemistry.'
References
UCAS 2017 application by subject group: https://bit.ly/2NFKKdi
UCAS 2017 acceptances by subject group: https://bit.ly/2QXIeNM
UCAS June 2018 deadline analysis: subjects: https://bit.ly/2QX92gP [pdf]
UCAS June 2018 deadline analysis: overview https://bit.ly/2xCJ4Hm [pdf]