Teaching spaces with sweeping views, where students are taught in both Welsh and English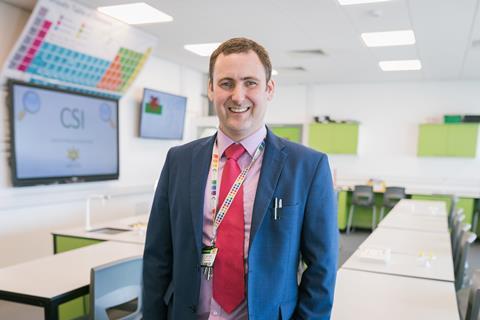 Meet Edwin Kelly, who has been teaching for 15 years. Before this, he completed a split PGCE in chemistry and outdoor education at Bangor University (or Prifysgol Bangor) in Wales.
Since then, Edwin's had jobs in both subjects, but has been teaching more chemistry of late. He also has a degree in engineering, and has been asked to teach some GCSE physics and biology at times – and, although he enjoys the variation, his heart very much lies with teaching chemistry.
How would you describe your school and its surrounds?
I teach at Ysgol Brynhyfryd in Ruthin, North Wales. It's a state school in the county of Denbighshire with approx 1200 pupils, including a very active sixth form of about 200 students. There's been a school on the site since the early 1900s and it's very much part of the local community. We have fantastic facilities, including a pool and a theatre, which we share with the local authority.
Ysgol Brynhyfryd is a bilingual school with eight forms in most years, three of which will typically study all their subjects in Welsh, and the others in English. We have pupils who come from far and wide. I love the diversity of language in the playground.
I have fallen in love with North Wales: the landscape, the people, the culture and the language. As soon as I moved here, I knew this was home.
Tell us about your classes.
I currently have classes in nearly all of years 7 to 13, which gives me a wonderfully broad teaching viewpoint. I love how, with chemistry, you can end up teaching the same topic in various ways at different levels. For example, I recently taught transition metals to three groups in one day – year 7, year 10 and year 13. I particularly love the way chemistry is so layered in this way.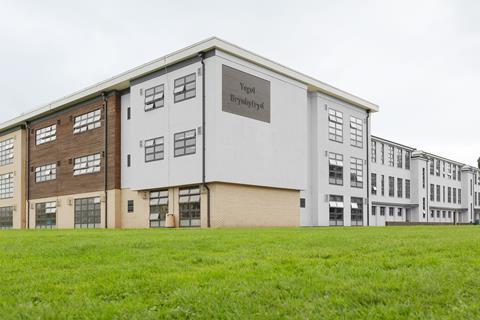 What's your favourite thing about your lab?
At Ysgol Brynhyfryd we have 10 labs, all currently being gutted and renovated. I was given the first of the new labs and felt a real pressure to use it well. It has the latest touchscreen interactive panel display, which I adore, and has so much functionality – so I'd say that's my favourite part of my teaching space. It's user friendly and makes everything about teaching better. The built-in spinner has been a huge hit with my classes. It also has two huge flatscreen displays, so I can put loads of different items up on the same screen and link them. I also have a ridiculously large periodic table, but I think I could still go even bigger!
How would you describe your classroom set-up?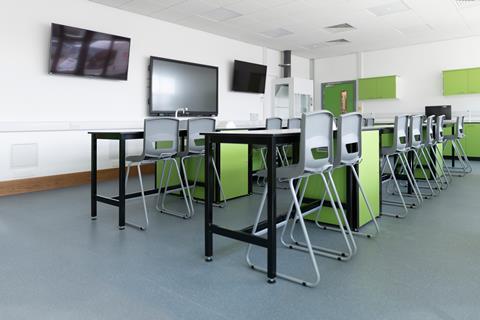 Fairly traditional. The school colour – green – is on all the doors, which catches the eye when you walk in. And I have a really inspiring view of the Clwydian Hills – most classrooms would struggle to compete with this view.
I was allocated my classroom during Covid-19, when we had to stay in our teaching zones at the front of the class. I am very excited about now using the classroom space to teach from different areas and I have started moving benches around for different activities. I am a bit of an educational technologist and enjoy trialling new technology, while also ensuring I have all the basics needed for lots of practical work. I have a Bluetooth setup that I can use anywhere in the classroom and I find it very effective to sit with the students while still writing and interacting with the board.
With an unlimited budget, what would you add to your classroom?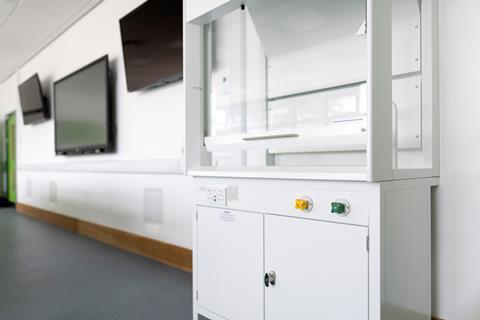 As mentioned, I could always go bigger with the periodic table! We have a set of laptops that we can use for the department and I would use them for every lesson, given the opportunity. But I'm not sure my colleagues would appreciate this, so my own set of laptop tablets would be first on my list.
I have a chemistry teacher friend who has such a large lab that they have wet and dry working areas, which I have always been jealous of. I've found that doing practical work and educational technology doesn't always mix. As my colleagues (and partner) will attest, I'm able to fill any space I am given.
Any closing thoughts?
The best lab in the world is not the best because of its equipment, but because it is filled with brilliant enquiring minds – and I want to thank the students who make my lab a special place every day.