Harsh and Michael analyse samples to keep the region's water and sewage systems safe and operational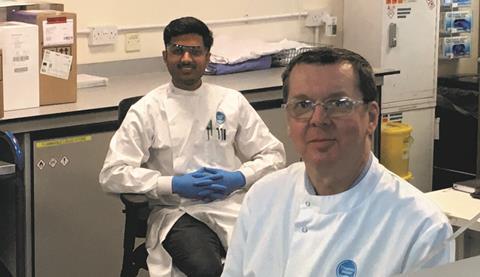 Harsh Shah and Michael Wevill are analytical chemists with the critical job of analysing samples to keep the region's water and sewage systems safe and operational.
What does the job involve?
In their roles at Thames Water, Harsh and Michael work hard to test potable water within the Thames Water network, which spreads from Cirencester to Dartford and includes Greater London. The team also analyses wastewater and sludge samples to ensure the sewage treatment process is effective. The lab ensures Thames Water maintains the supply of high-quality water, which otherwise may be harmful to the millions of people who rely on it.
How do you get into the job?
Michael and Harsh took different journeys to the roles they are in today, demonstrating the diverse range of career options and paths available for those wishing to pursue a career in chemistry.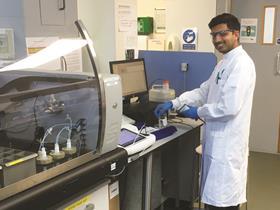 Harsh
After studying biochemistry at university and then working in both a soil laboratory and for a small water testing company for around four years, Harsh Shah came to Thames Water with a wealth of experience in this laboratory environment.
Talking about his decision to pursue a career as an analytical chemist, he said "I always wanted to do something to help other people, and I knew science was a way I could do this, as well as being something I was really interested in.
"That's why I'm in this industry and job – if you are an analytical person, this is a really good way to utilise your expertise, whether that's innate skills or something you've practiced and developed.
"The water industry is one of the biggest industries where you can work and be a vital part of society, helping to provide a critical service."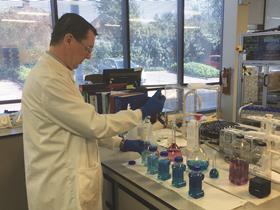 Michael
Michael took a different route towards becoming an analytical chemist at Thames Water. Leaving school at 16, he went to college to study chemistry after a week's work experience at school inspired him to pursue a career in the chemical sciences.
Explaining his career journey, Michael said: "That week of work experience allowed me to see how a chemical plant works and what people did – it's a really good experience for young people to get a feel of what it is like to work in a lab.
"Chemistry can take you anywhere – there's so many facets to the chemical industry and it is really rewarding work."
Making the difference during the Covid-19 pandemic
As key workers, Michael and Harsh work hard to ensure they are doing their bit to support the NHS fight the crisis on the frontline.
Working to government advice, Thames Water has changed the way it works, introducing home working where possible to ensure limited numbers of employees are in at one time, while still ensuring critical work is carried out. It is an unprecedented time and working from home is not something Harsh or Michael expected in their roles, which are largely reliant on the lab environment.
Harsh said: "We've had to work really hard. It's not been easy, but we're still working every day, trying to do the job in limited hours, but making sure we provide a vital service. We've worked to create a way that we can be flexible in our working practices to ensure that we can do our essential work as safely as possible.
"I was even working from home last week, which was quite strange as a lab analyst. We have a shift system so there are only two or three people in the lab. It's quite a big lab, so there is quite a lot of distance between us all; but we've been following the advice of the government basically."
Michael added: "This has been done so that we can continue to provide a vital service with limited disruption, keeping our country and essential services safe and operating effectively during these unprecedented times."
First published 2020