Hilde investigates consumer complaints for beverage company, Coca-Cola
Hi, I'm Hilde and I work at Coca-Cola.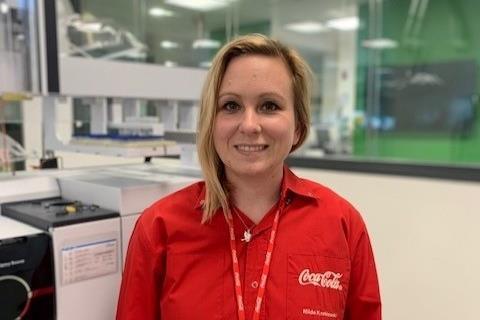 What does your job involve?
I work for Coca-Cola. Our mission is to refresh the world and make a difference. As well as the much-loved brands that people have grown up with, we are at the forefront of developing a wide range of drinks including plant-based beverages, teas, coffee, fruit juices and hard seltzers.
My job consists in looking into consumer complaints about our products when they are related to chemical background issues.
How is your job making a difference?
It is through my job and the science behind it that we can understand and explain what happened to an item a consumer gets in touch about as everything can be explained with the chemistry.
Salary range and qualifications required
Salary range: The UK national average, annual salary for a flavourist is £31,595 (Glassdoor).
Minimum qualifications: Industries like people to have a master's degree for this type of role. However, the qualifications needed will vary depending on the role.
What is your typical day like?
There is no typical day! The ideal day is when I can manage to check if everything is functioning well in the lab, then check data/emails to see if my priorities have changed, which depends on the consumer complaint, issued beverage, etc.
What inspired you to work in chemical science?
Back in school, I suppose the science was an easy one for me. I loved thinking about being surrounded by chemistry every day, then I discovered the subject of flavour/perfume which drove my motivation.
What do you like most about your job?
I love discovering a new smell, a new issue and having to play the detective to understand what happened by using chemistry, different skills and to link my senses with the chemistry and beverage processes.
What skills do you need for your job?
You need to have a mix of skills such as team working, problem solving, data handling, good communication skills and technical skills.
How did you find your job? How did your qualification help you to get there?
A recruitment agency contacted me. The job was also advertised online through LinkedIn. My master's degree was a perfect match for my role as its program was very wide, covering topics from advanced chromatography to formulation, natural extracts, sensory information and learning to smell/taste beverages.
What advice would you give to a young person considering a career in your field?
Be curious, never give up, be confident but also conscious that chemistry is wide and there's always something new to learn.
What are your plans for the future?
That's a good question! I think technical progression in my role is limited, which might guide my career towards management.
Published January 2022