Mike ensures that chemistry practicals run smoothly for everyone using the lab. He's also involved in Manchester University's apprenticeship scheme
Hello, I'm Mike and I work as a teaching technical specialist in the Department of Chemistry at the University of Manchester.
What does a teaching technical specialist do?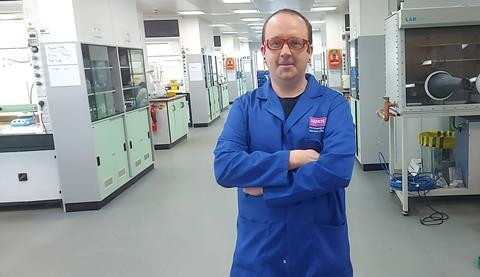 I manage a team of six technicians who support the chemistry students and academics that use the teaching labs. It's a very practical role that reaches 600 people a week.
The work involves instrument maintenance and making sure the students have all the instruments they need to do the tasks they are required to do. We give them advice on how to do things, or how to use a piece of equipment and the best way to set up a piece of apparatus. We act as an extra pair of eyes if the students are struggling. We try not to show them how to do it but talk them through how to do it. I'm also involved in the apprenticeship scheme and attracting future technicians.
What is your typical day like?
Early morning, I prepare the space before all the students come in and make sure we have enough supplies for the next few days. I may also make a few chemicals. As soon as the students walk in, it gets very busy – then we are supporting up to 100 students (pre covid) on each of the two floors, plus graduate teaching assistants and members of staff, making sure they have everything they need for up to eight tasks on each floor. We teach 10 till 4 every day. After the students go, we make sure everything is safe in the lab overnight and prepare for the session the next day.
During the summer, we do developmental work and order in the supplies. We may do some synthesis to make some of the stuff the students start with. We go through every experiment to see how we can improve it.
I'm part of the developmental group for the lab who sit above the whole lab structure and plan what we are going to do for the next year. I provide advice on what's possible in the lab, what we can do with the equipment and what we think the students can do in the time.
What do you like most about your job?
I really enjoy the practical chemistry – doing chemistry reactions or running analytical instrumentation and working alongside so many people who are enthusiastic about the practical side of science. It's really enjoyable to watch people falling in love with practical science. I enjoy being a part of a team of academic, technical staff that have played a role in supporting the undergraduate student and apprentice learning journey turning them from novice to experts.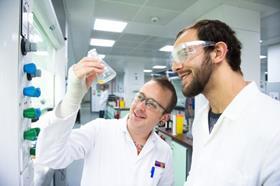 In the summertime I enjoy taking part in outreach activities and getting my "hands wet" in the lab again.
How did you get into your job?
I left school with GCSEs and went on to do A-levels. I started a degree in chemistry but left after a couple of years. I later applied for an apprenticeship at the University of Manchester. Although it was a level 3 apprenticeship, I wasn't able to find a training provider for the higher national certificate (HNC) because I had already started a degree. Luckily I was able to study for a degree part-time alongside the apprenticeship instead.
However, there are multiple ways of getting into this career. I've come across hundreds of technicians and not one has had the same career path or the same route.
Salary range and qualifications required
Minimum qualification for role: The entry requirements for apprenticeships vary; check with the providers for specific entry requirements. Usually, for level 3 apprenticeships, you will need at least five GCSEs at grades 9 to 4 (A* to C), including maths and english (UCAS). Entry qualifications for laboratory technician roles also vary – see Prospects for further information.
Starting salary band: The salary for a technician in my team starts at £22,000 to £33,000. An apprentice would start on £10,500 working up to £18,500 at the end of the apprenticeship. For the manager's role, it's £33,000 to £51,000.
How does your job affect the world around us?
My role makes a difference to every student that comes through – those students go on to fabulous things afterwards in research, teaching and non-chemistry roles. Without my job there would be no chemistry degree.
What skills are needed for it?
Team working, problem solving, communication. Good lab skills. The ability to learn new techniques and understand them quickly. Being able to strip a piece of equipment down and understand this is how it goes together and this is why it goes together this way. To be able to plan things out methodically and put those plans into action.
What inspired you to work in chemistry?
When I left school, I didn't want to do chemistry. I enjoyed it but I came from a long line of engineers. It was my A-level teacher who inspired my by showing me what a practical subject it is, similar to engineering things.
What advice would you have for a young person wishing to enter your career area?
Being a technician is an incredibly rewarding career. It's hard work.
If you're interested, just speak to people who are in the career, in universities or running apprenticeship schemes. Once you're in, you can specialise.
As for a career in chemistry, just enjoy it. There are many different disciplines within chemistry so just find one you enjoy and go for it.
What do you see yourself doing in the future?
I have no plans for the future – I'm just going to see where it turns up. I'm doing a master's in inclusive education and my interest has moved into trying to help others have a technical career. I enjoy that as much as the chemistry side of it. It's about how to make practical chemistry inclusive.
Mike Hughes MRSC, teaching laboratories manager at the University of Manchester.
First published October 2021