Kasia makes lubricants to improve the performance of metal-cutting tools while also studying towards a degree in chemical science
Hi, I'm Kasia and I work as a laboratory scientist apprentice for Italmatch Chemicals.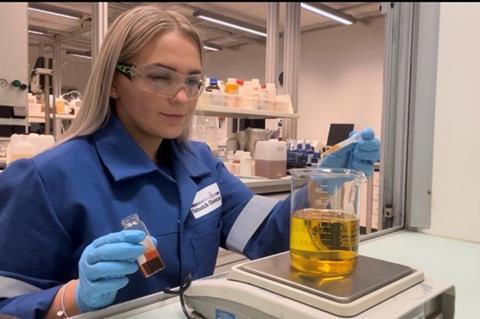 What does a laboratory scientist apprentice at Italmatch Chemicals do?
Italmatch is a chemical manufacturer and distributor, specialising in a range of markets, including oil and gas, water treatment, lubricants, fire retardants and personal care.
I work within the lubricants sector on our Manchester plant, where we manufacture additives for industrial lubricants, primarily metalworking fluids (MWFs). I work in the lab four days a week, learning to formulate products alongside experienced colleagues.
I am also studying towards a degree in chemical science at Manchester Metropolitan University. I have an allocated study day each week, which I use to attend online lectures and complete assignments and exam revision.
Salary range
Salary range: Employers are required to pay apprentices the national minimum wage, although many choose to pay their apprentices more.
Standard lab apprentice salary: £14,000
Average laboratory manager salary: £45,000
What is your typical day like?
I work a 7.30am to 3.30pm day and it typically starts off with routine procedures such as calibrating lab equipment and stock checks. We have a team meeting at 9.00am each day, which we use to discuss any new projects which are then delegated between us. Every project is different, which I find exciting as each one poses an opportunity for new learning. Projects emerge due to a range of reasons, including raw material shortages, customer requests and issues with production batches. The rest of the day is then spent completing labwork and writing up reports. I often spend time in the evenings completing university assignments and updating my apprenticeship portfolio.
How does your job affect the world around us?
All metal objects in our everyday lives, from the precision parts inside our mobile phones to aerospace components, need to be machined and cut to shape during the production process. Many metal working operations are severe, generating a huge amount of heat and pressure. These extreme conditions can damage the cutting tool as well as cause the workpiece to deform and lose its lustre. Not ideal!
The primary purpose of a MWF is to cool the cutting tool and workpiece, which prevents thermal damage and optimises surface finish of the end product. Other benefits include reduced friction and power-consumption, extended tool-life and protection against corrosion.
How did you find your job?
After I finished my A-levels, I thought a degree apprenticeship sounded like the perfect route for me so that I could start my career while continuing with my education. I found my job by browsing the Manchester Metropolitan University (MMU) apprenticeship vacancies website.
MMU is the leading provider in the UK for degree apprenticeships and there are many employers who partner with them, so this is a great place to start looking. The best time to apply for apprenticeships is between November and April.
At the time of my apprenticeship application, I was studying towards my A-levels in chemistry, maths and biology. This demonstrated my passion for science and I was able to talk about topics I think I'd mostly enjoy studying at university should I get the job. My second interview involved answering chemistry-related questions so I was able to apply some of my A-level knowledge.
Minimum qualifications
Minimum qualifications: Entry requirements vary depending on the employer and university. However, standard qualifications are:
GCSE grade 4 in english and maths
Three A-levels (one being chemistry) at grades B/C/C or a minimum of 104 UCAS tariff points if studying BTECs
Why did you choose chemistry?
I have loved chemistry ever since I was introduced to it in secondary school. My enjoyment meant revising was never a chore, so I decided to study it at A-level too. I had a particularly inspiring teacher during my time at college and always looked forward to his lessons – he helped me develop confidence in my ability and taught me that chemistry isn't all about having the answer first. I developed a problem-solving mindset and learned to think methodically. Discovering this is what I'm good at, I knew I wanted to stick with the subject from then on. Inspiring others in the same way keeps me motivated and I now talk to students in schools and colleges about careers in STEM. I have also recently supported a work experience initiative at Italmatch.
What do you love about your job?
As an apprentice, I am always learning new things and taking part in things for the first time. Recently, I was lucky enough to travel to America to attend a training course, which was a great opportunity to meet colleagues and experience another part of the world. I'm encouraged to approach new situations independently and I'm developing an autonomous mind as a result. However, I'm part of a supportive team and feel able to approach anybody with questions when I'm unsure.
What skills do you need for your job?
The purpose of an apprenticeship scheme is for you to learn new skills, with help from both your colleagues and the training provider (either a college or university). Employers aren't looking to recruit a finished article with all the necessary skills. However, there is an expectation that you are eager to learn, show initiative by asking questions and take responsibility for your university work.
Saying that, you may already have some skills which may come in handy. Keen attention to detail is useful when working in a lab, and ability to work well with others is one of the most important employability skills in any working environment.
What barriers did you encounter on your journey into your role?
The college I attended didn't promote apprenticeships in general. There was support and advice provided to students who wished to attend university. However, knowledge surrounding apprenticeships was limited, meaning this route was not encouraged. As a result, I was one of the only students from my year group who chose not to attend full time university.
It was difficult to 'go against the grain', especially when others were questioning my decision but, two years later, I couldn't be happier! I now work with schools and colleges to help educate students about alternative pathways into the science industry.
What tips or advice would you have for someone looking to get into a similar role?
There is an outdated attitude surrounding apprenticeships, in that people think they are easy and for people who don't have the grades to get into university, but this isn't the case! In fact, an apprenticeship could be considered the more challenging way to get a degree, as you have to balance a full-time job with studying. It's worth doing your research before applying for an apprenticeship as it is a big commitment that comes with sacrifices. If you are between applying for a full-time university position or an apprenticeship, consider how important the social aspect is to you, as this is one of the main differences between the two and something I have found challenging. It can be difficult to meet new people, especially when you are so busy working and studying.
I would also suggest trying to get a work experience placement, even if it's just a week. This serves as an opportunity to see what it's like to work in the industry and gives an indication of whether you'll enjoy it. I completed lab-based work experience in the summer during year 12 and loved it, which contributed towards my decision to go straight into the world of work! You can do this by emailing local employers or speaking to your college work experience advisor.
What do you see yourself doing in the future?
I'm still very early on in my career so I'm a bit unsure. I would like to stay in the industry and explore the chemistry of other classes of lubricant such as grease and oil. The lubricants industry is set to change in the near future due to the development of electric vehicles so I am also interested in developing knowledge in this area.
Kasia Gierek, laboratory scientist apprentice for Italmatch Chemicals.
Published December 2022