Bill Bryson and RSC President Professor David Phillips presented the winners of the 2010 RSC Bill Bryson Science Communication Prize with their prizes at a special event at the Palace of Westminster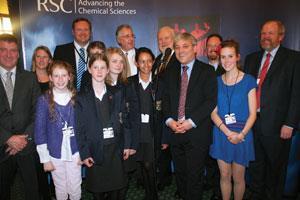 The overall winners were Hannah Taylor, Thomas Earl, Lucy Upot and Charlotte Norris of Aberdour School, Surrey, for their animation entitled "Our Thirsty World", which was about issues around water supply and quality. Phoebe Devonshire, from West Hill Park School, won the prize in the Primary category for her writing about the chemistry of rocket propulsion and Emma Hopkins claimed the Secondary prize for her entry about HIV. Bryson said the entries had been of "unprecedented quality".
Copies of all the winning entries can be found on the RSC website along with details of how to enter this year's competition. The closing date is the 31st of March and this year celebrates the International Year of Chemistry by sharing its theme for the competition: "Chemistry-our life, our future". In addition, there will be a new category for entries from schools outside the UK.
For more information see the RSC Bill Bryson Prize website.