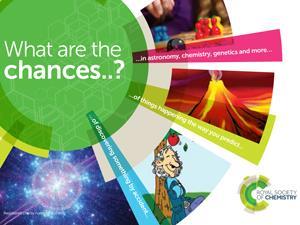 The Royal Society of Chemistry has announced the theme for their 2015 student science communication competition, the Bill Bryson prize.
Students, either individually or in teams, are asked to be creative on the theme of 'chance'. Entries can take any form and have previously included videos, songs, posters, magazines and cartoons.
The overall winner will receive £500; the top 25 entries, a £100 Amazon voucher; and 100 students, a Bill Bryson book.
The competition is open to students aged 5–18 around the world. The deadline for entries is 31 March.
In 2014 over 500 entrants attempted to answer the question 'Where is the science in art?' The overall winner was 17 year old Bryn Brunnstrom from St Paul's School in London, UK. Bryn produced a short film combining animation, where the subjects were drawn in front of our eyes, with narration. His advice for next year's entrants is to try to come up with something original. 'This is a multimedia competition; you're free to express your ideas in anyway that you want, so you have to take advantage of this freedom.'
The international prizewinner was 18 year old Muresan Vlad from Transylvania College in Cluj, Romania. His entry was a poster featuring anatomical drawings and paintings of the human arm and shoulder, inspired by the work of Leonardo da Vinci. Muresan's advice for future entrants is 'use it as a unique opportunity to develop skills and to try something new.'