Science education researchers at Sheffield Hallam University are leading a €3.6m project to help train teachers across Europe to deliver more engaging science lessons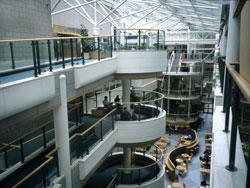 The European Commission has funded the project, which will bring together teacher education professionals from 12 different countries. Sheffield Hallam's centre for science education is coordinating the three year development programme, called Chain Reaction.
The programme uses scenarios that challenge children to work in teams on actual research projects based on real scientific studies, with an overall theme of 'Earth and Universe'. This hands-on, student-led approach to teaching science is known as 'Inquiry Based Science Education' (IBSE).
The project will promote the use of IBSE in secondary schools across the partnering countries by developing teaching skills in those countries. The scenarios and delivery of teacher education will be tailored to each partner country's specific requirements.
Stuart Bevins, a senior research fellow in the centre for science education, is leading the Chain Reaction project. He said: 'By encouraging children to take on the role of researchers in the science lab and tackle realistic problems, they will be much more inspired by and engaged in their science studies.
'Schools will bring in role models to dispel a few myths about scientists and demonstrate the real range of career opportunities science offers young people.'
Schools will also be shown how to run their own student research conferences, where teams of students will present their projects and findings. One team from each school will be selected to be part of an international conference in 2014, which will feature a keynote address from renowned fertility expert and chancellor of Sheffield Hallam, Robert Winston.