Irfon Thomas has spent the past 18 months working for Sigma Aldrich as a chemicals buyer. He talks to James Berressem about his typical day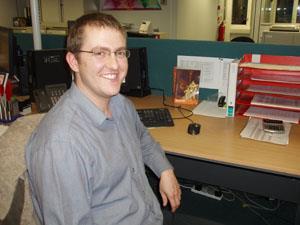 Chemicals and equipment sold through Sigma Aldrich's (SA) catalogues are used in laboratories in universities, pharmaceutical companies, research organisations etc around the globe. Based in Gillingham, in Dorset, Irfon works in the purchasing department which comprises two groups of six each led by a supervisor who reports to the procurement manager. He sources, negotiates prices and buys from worldwide suppliers the chemicals and technical equipment (eg glassware etc) on offer in the SA catalogues.
Supply and demand
Irfon spends much of his day using a PC to access the company's stock control database. This system produces a weekly forecast list of items that it believes need to be restocked in the SA warehouse. Irfon works through the list checking the actual stock levels and removes from the list any products that do not need to be bought. If a product does need to be ordered, he consults a database detailing all the previous quotes from potential suppliers. From here he generates new quote requests, which are recorded in the system and sent to suppliers by e-mail or fax along with a detailed product specification. When a new quote is received he adds the details to the database. Not all suppliers respond promptly, so Irfon spends some time chasing quotes by contacting suppliers by e-mail or phone. This ordering procedure takes up more than 50 per cent of Irfon's time and it can take several days for him and his colleagues to work through a forecast list. When all the quotes for an item are in he may contact a supplier to negotiate an even better price.
The chemicals Irfon orders in a day can range from standard solvents (eg ethanol) through stock reagents (eg sodium hydroxide, hydrochloric acid etc) to fluoro-compounds, metal-based catalysts and enatiomerically pure chiral compounds. Prices range from £0.10 per gram to £100s per gram. An anti-insulin antibody, which is sold in tiny quantities, costs £300 per 25 µg - that works out at £12 million per gram! Most of the chemicals ordered are manufactured in the UK. As a result Irfon completes orders for UK-manufactured chemicals received from SA's other sites around the globe.
Among the dozens of e-mails he deals with each day, Irfon gets requests from SA's sales support team to help with unusual orders from customers, eg bulk orders (10-50 kg) for a compound. Using his knowledge of suppliers he will identify a manufacturer that can supply the chemical, quote a price and the expected delivery time. Irfon might also receive a rejection note from SA's quality control department, which tests every chemical SA buys. When a product fails to meet its specification, Irfon contacts the supplier to arrange for the item to be either reworked, or replaced, or cancelled.
During a day Irfon's thoughts may also turn to an ongoing project he is involved with, which aims to speed up the supply of hazardous chemicals. Currently these chemicals are sourced by SA's US-based site and can take months to reach the UK because of strict shipping regulations. The project team is developing plans to resource these chemicals from European suppliers.
Playing the game
The work of a chemicals buyer is similar to playing a game: to win the buyer must get a better price. Although it's not his cash, Irfon gets a buzz each time he saves the company money.
Pathway to success
2005-present
Chemicals buyer, Sigma Aldrich, Gillingham, Dorset
2000-2005
Quality manager, Brapack, Wallingford
1998-2000
Technician, Nippa, Cardiff
1994-98
BSc chemistry (2.2), University of Wales, Glamorgan
1992-94
Chemistry, physics A-levels, Bishopwand School, Sunbury