Charlotte has spent the past 12 months working as a formulation scientist for 3M. She talks to Rachel Bolton-King about her typical day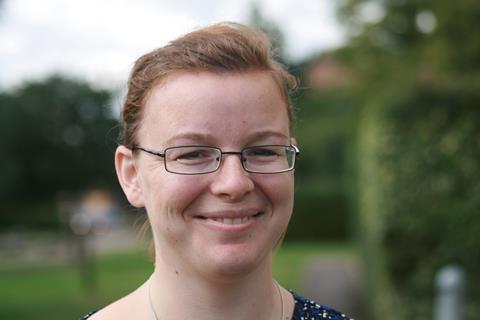 3M is a global technology organisation with over 75 000 employees working in various industries. Charlotte works in the healthcare division, specialising in inhaler product development. She is one of six staff in the product development submissions team based in Loughborough.
Drug delivery
Charlotte is responsible for writing sections of common technical dossiers (CTDs) on new inhaler products developed by 3M for customers, eg pharmaceutical companies. The CTD is a summary of all the analyses and tests done on a product, ranging from its appearance to the results of tests on how it distributes the drug in the lungs. Before an inhaler drug can go on sale a CTD must be submitted to the regulatory authority of the country in which the product will be sold. Charlotte works with 3M's regulatory department to make sure new products meet all 3M and regulatory authority guidelines.
Charlotte usually only has a few products to document at any one time because a CTD is ultimately ca 50 000 pages and can take over a year to complete. Typically, she starts her day by contacting all departments that have done tests on an inhaler product to collect their test data. Collating the data can take two-three days and involves transposing information from workbooks into spreadsheets. Using the completed spreadsheets, Charlotte assesses the data and creates tables, graphs and charts to illustrate and compare the results of tests, eg on how consistently test batches of the drug reach the target area of the lungs compared to a control.
When Charlotte completes a first draft of a CTD section she passes it on to a colleague to review. The review process highlights changes to the draft, which Charlotte can accept or reject. If Charlotte rejects any recommendations, she has to justify fully her reasons, eg the change contradicts another section. Charlotte's manager will also review her draft and it is at this point that 3M's regulatory department checks the document to ensure it meets the customer's or regulatory authority's guidelines. When the section has been authorised, the document is sent to the relevant regulatory authority or customer.
Charlotte may spend some of her day reviewing colleagues' drafts for other CTDs. She checks that consistent language is used and the grammar and data are accurate. This requires her to be thorough, have a methodical approach and an excellent eye for detail.
When Charlotte is not busy writing or reviewing sections of a CTD, she can be seconded for a few weeks to another department. Recently, she worked in a laboratory testing the robustness of an inhaler, which involves repeatedly firing the inhaler to determine that a consistent amount of drug is released each time. She values these opportunities because they give more variety to her role.
Improving quality of life
Charlotte enjoys her job because she applies the knowledge gained from her degree to help develop products that will improve people's lives. Working in a large company like 3M means her work is diverse and she interacts with many colleagues in other departments.
PhD student, Rachel Bolton-King was given a grant by Chemistry: the next generation (C:TNG) to write this article in collaboration with Education in Chemistry.
Pathway to success
2007-present, formulation scientist, 3M, Loughborough
2005-07, inhalation scientist, Innovata, Nottingham
2001-05, BSc in medicinal and pharmaceutical science (2.i), Nottingham Trent University
1999-2001, NVQ Level 3 in pharmacy, Distance Learning
1997-99, A-levels in chemistry, physics and biology, Coleg Meirion-Dwyfor, Dolgellau, North Wales