Daniel Ford has spent the past four years working for UCB and his current position is research chemist. He talks to James Berressem about his typical day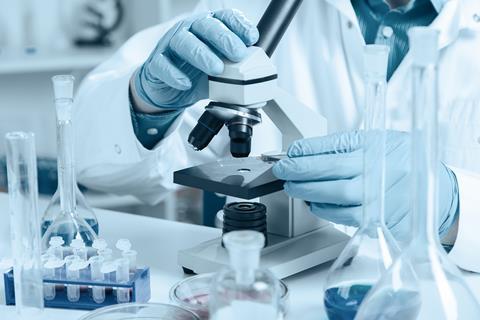 UCB is a biopharmaceutical organisation with R&D and manufacturing sites around the globe. The company develops treatments for severe diseases such as cancer, epilepsy, rheumatoid arthritis and Parkinson's disease. Daniel is one of 20 chemists working on an R&D project to make new small molecule drugs that inhibit enzymes (called kinases) which cancer cells need to grow.
Making molecules
Daniel works in a lab optimising lead compounds which have shown some potency against kinases. At UCB he is encouraged to be creative and contribute ideas to designing new molecules, rather than just synthesise compounds in the lab. UCB chemists have made many new molecules by making slight alterations to the structure of potential lead compounds in an effort to introduce the overall properties required for a viable drug, eg increasing its solubility. Daniel's efforts continue in this vein and his first port of call in his search for ideas to modify a lead compound is the company's database on molecules and their properties, or structure-activity relationships.
Before going home Daniel sets up a reaction to run over night. He records every experiment he does in a lab book, including details such as time taken, reaction conditions etc. First thing in the morning Daniel does a liquid extraction and clean-up of the reaction mixture. Next he separates out the reaction products using solid-phase chromatography. The equipment is computer-controlled so Daniel can pre-programme the run and get on with other work, such as studying academic journals to learn about developments in relevant lab technology.
State-of-the-art facilities
Many of the reactions require standard chemistry apparatus but new techniques are used in UCB's labs. For example, Daniel uses a special microwave oven to heat reactions which do not take place when heated by a water or oil bath. He is particularly excited about using new microfluidic lab-on-a-chip devices. These allow chemists to do chemical reactions using microscopic volumes of chemicals. Working on this scale speeds up reactions and lowers chemical requirements, thus reducing cost, waste and risk.
Daniel must analyse and characterise every compound he makes, be it an isolated intermediate or a final product. He uses techniques such as liquid chromatography-mass spectrometry, NMR spectroscopy and ultra-high pressure liquid chromatography equipment, another new bit of kit in the lab which accurately measures the product's purity - a vital consideration if it is to be made into a drug.
Back at his desk Daniel carefully inputs data on his latest product onto the database. He also writes a report which he will present at the chemistry team's fortnightly meeting. The project team, including biologists and pharmacologists, meet once a month. This is an opportunity for Daniel to find out if any of his compounds have progressed through the screening programme.
The thrill of research
Daniel enjoys the hands-on aspect of chemistry and doing pioneering research - making molecules no one has made before is a thrill for him. And to work to a goal which one day might ease the suffering of many cancer patients is particularly rewarding.
Pathway to success
2007-present, research chemist, UCB
2004-07, research associate, UCB, Slough
2003-04, contractor, Pfizer, Sandwich
1999-2003, BSc medicinal chemistry with year in industry (2.ii), Leeds University
1998-99, project worker, Pfizer, Sandwich
1996-98, chemistry and biology A-levels, Hind Leys Community College, Shepshed