'Excellence in science education' – a look at the ASE annual conference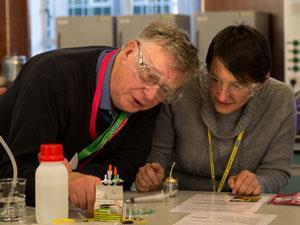 The Association for Science Education's (ASE) flagship event each year is their annual conference in January. Over 2000 people visited the conference, which was hosted in Birmingham.
Best practice
Brian Cartwright, national lead science adviser for Ofsted, packed out a classroom with his lecture on best practice in science education. His talk was based on the report Maintaining Curiosity, published in November 2013, and subtitled 'factors that promote achievement in science. It reported key findings from three years of school inspections and offered specific advice on how to improve science teaching.
Brian urged teachers to get serious about assessment for learning if they wish to improve their teaching. For example, his inspections showed that 'whether orally or in writing, the best questions demanded extended responses from pupils that gave teachers information about a pupil's grasp of the science ideas'. He stated that excessive working in pairs in practical activities acted as a barrier to independent learning, particularly damaging students when they reach A-level chemistry.
He also offered advice on differentiation, literacy and CPD for teachers. Highlights and the full report are available online.
Discussions
This event is always a great opportunity for teachers to come together to share ideas. The Talking Science Education debate asked teachers to consider the use of evidence to inform science education. Discussions covered the role of action research versus randomised controlled trials and the intended for audience for research evidence. This was topical, following the report for the Department for Education by Ben Goldacre.
There was also some conversation about how the results of research can be effectively disseminated to teachers, a task undertaken by Education in Chemistry for many years (see our archive).
Cutting-edge science
One of the advantages of holding this conference at a university is access to those who work at the frontiers of science. The ASE invited a series of academics to talk to teachers about their research. Delegates could hear about the opportunities for nanotechnology in environmental science, how an understanding of DNA repair mechanisms can be used in the treatment of cancer, and the future of nuclear power in the UK.
And much more
As always, the conference boasted a range of talks and workshops to provide teachers with ideas and resources to take back straight to the classroom. Bob Worley, chemistry adviser for CLEAPSS, ran several hands-on sessions to introduce teachers to reduced scale (microscale) science. This approach to practical science is economical, allows once-dangerous experiments to be carried out more safely and shortens practical time so that lessons are not so rushed.
Finally, the event hosted the 'most extensive science education exhibition in Europe'. The Royal Society of Chemistry was among the exhibitors, signing up teachers to Learn Chemistry Partnership – the new programme that delivers a package of free benefits to schools in the UK and Ireland. Find out more here.