Katrina Krämer talks to an art school graduate with the skills that make chemistry research possible
Some people have a job and a hobby, but for Abigail they are the same thing. Even so, she wouldn't have thought this would mean becoming one of the most important people in a laboratory chemist's life – a scientific glassblower.
From cooking to ceramics
Abigail's journey into science started out in an unlikely place – a cafe. Not ready to make a decision about her future career, Abigail started working in a cafe and delicatessen after finishing her A-levels.
Dedicating her free time to her hobby, Abigail created ceramics and fired them in her own kiln, which she kept in the shed of her family home. 'I was lucky enough … [my] mum and stepdad didn't mind me taking over the shed with my ceramic creations and running up the electricity bill,' she laughs. Abigail decided to enrol into a part time art and design course, putting together a portfolio with which she was accepted into a BA glass and ceramics course at Sunderland University.
After finishing her degree, Abigail's journey took her into millinery – designing and making hats at a small bridal accessories company. 'I enjoyed the job, but started to feel like I needed a new challenge,' says Abigail. 'That's when I saw the advert for a trainee scientific glassblower at York University.'
New challenges
Having developed a love of working with glass during her time at university, Abigail applied for the job, despite having very little idea of what it meant to be a scientific glassblower. 'As soon as I was given a demonstration, I just knew it was what I wanted to do.' Scientific glassblowing involves creating and repairing the specialised glass equipment that is an integral part of many lab scientists' daily work. 'But it is also much more than that,' says Abigail. 'It's the satisfaction of taking bits of rod, tubing and components and creating something not only useful, but often highly specialised.'
She landed the job and started training under the mentorship of retired York glassblower Steve Moehr. Even though being a trainee glassblower was tough at times, Abigail was determined not to give up, and after four and a half years she passed her final exam with distinction, taking over the full running of the University of York's glassblowing workshop.
A love of glass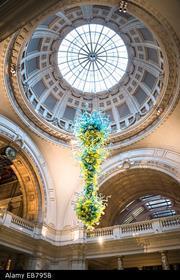 Abigail enjoys the constant challenges of her job – every piece of glassware is unique and even simple looking items can be complex to manufacture. While large manufacturing companies sell a range of standard glassware, like round-bottom flasks and beakers, researchers often encounter problems that can only be solved with specially made equipment. 'Sometimes it's not the glassware itself that is interesting but the research that it's used for,' says Abigail. 'Knowing that you have created and designed something that has not only overcome a problem, but will enable research to develop and continue is a brilliant feeling, and probably the best thing about my job.'
Not the usual path
Abigail's journey through different jobs and education was anything but straightforward, but led her to combine a hobby and work in a job she loves. 'One of the things that stands out is that I have always been attracted to practical or creative jobs.' Abigail still enjoys crafting in her free time – at the moment she loves sewing.
Many people have never heard of her job and are amazed when Abigail explains what she does. 'I think of myself as having quite a varied path to becoming a scientific glassblower, but then again, I'm not entirely sure what the usual path would be.' Abigail likes to encourage others to be open-minded about their career. 'The road you are destined for could be just around the next corner,' she says. 'It doesn't matter if you take a few wrong turns or detours along the way, enjoy them!'
Pathway to success
2012–present, Scientific glassblower, University of York
2008–2012, Trainee scientific glassblower, University of York
2006–2008, Milliner, Rose Belinda, Scotland
2003–2006, BA (Hons) in glass, architectural glass and ceramics, Sunderland University
2001–2003, Foundation diploma in art and design (part time), Beverley College
1999–2001, A-levels in biology, sociology and graphics
Abigail was initially interviewed by 175 Faces of Chemistry http://rsc.li/175-faces
Originally published in The Mole