Franziska Bell, chemistry graduate from the University of York, wins Best Chemistry Student prize at this year's Science, Engineering and Technology (SET) Awards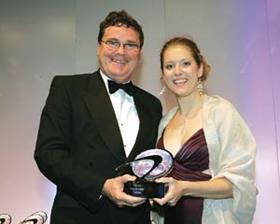 Franziska Bell, chemistry graduate from the University of York, wins the World Leadership Forum Award for Best Chemistry Student at this year's Science, Engineering and Technology (SET) Awards. Bell collected her award trophy at a gala awards dinner attended by hundreds of leading scientists, industrialists, and teachers and policy makers from the world of higher education, at Alexandra Palace in London in September.
The SET awards, which have become known as the 'oscars' of British science education, are designed to raise the profile of SET subjects in the UK. They are judged by professional SET bodies and supported by global industrial and pharmaceutical companies. The competition recognises the achievements of outstanding SET undergraduates in their final-year research projects, and people likely to be the best ambassadors for their profession. Students are initially assessed on the basis of a written report and citation from their research supervisors, and finally by a panel of judges.
Representatives from the Royal Society of Chemistry judged the chemistry prize. Bell was chosen for her project in Dr Peter Karadakov's group in theoretical chemistry at York University. Using computational methods, Bell showed how functional groups in toluidene blue modified the way this molecule interacts with light. She was then able to predict the nature and position of additional functional groups that would transform the dye into a promising anticancer agent.
Karadakov told Education in Chemistry, 'Throughout her degree at York, Bell has been one of the best undergraduates I have come across in my teaching career. She has an impressive knowledge of mathematics, which extends beyond what we teach to our chemistry undergraduates. Her project is an innovative application of advanced computational chemistry methods to drug design. Its successful completion required knowledge of quantum chemistry and computer programs at a level that is normally achievable by PhD students in their first year'.
Addicted to chemistry
Bell admits to being bitten by the chemistry bug at a very early age. She attended a specialist music high school in Austria, and says it was her chance involvement in the Chemistry Olympiad competition which proved to be an inspiration. She found herself mixing with people who were as passionate about chemistry as she was. The competition also provided her with the opportunity to do real hands-on chemistry in the lab, something she would not have done otherwise in an Austrian school at that age. 'I did some very complex syntheses, which I really enjoyed', she told Education in Chemistry, 'and began to see the connection between the theory and the practical. In chemistry you never learn anything for no particular reason. It's like a giant puzzle, and the more you learn and understand, the more the whole picture fits together. And for me that's the exciting bit'.
Hooked on chemistry, Bell decided to do her chemistry degree in an English-speaking country because, she says, 'I realised that with all the major journals, books and conferences in English I would end up having to re-learn everything in English anyway, and I was aware of the good reputation of universities in the UK'. She was drawn to the chemistry department at York because of its tutorial system, which gave her the 'opportunity to ask myriad questions in an open and encouraging atmosphere'. Over the four-year course she gravitated towards computational chemistry - because this satisfied her appetite to be involved with a broad range of chemical topics and her second love, mathematics.
Bell moved to the University of California in Berkeley in the autumn to study for a PhD under theoretical chemist Professor Martin Head-Gordons.
The two other chemistry finalists were Josephine Corsi from the University of Southampton for her project on the transcription of DNA within lyotropic liquid crystals, and Jennifer Kan from the University of Cambridge for her project on the development of a natural product-inspired cascade cyclisation.