Phil Wilson, senior technician at Broadgreen International School, Liverpool, has been announced as Gratnells Science Technician of the Year 2012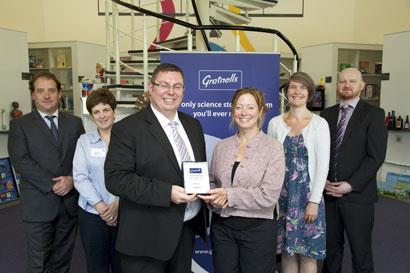 At the recent ASE National Technicians Conference in York, Kathy Sykes from Bristol University presented him with his award, which included over £1,200 in cash and products from sponsors Gratnells and SciChem.
Described by his nominator as 'enthusiastic, extremely efficient and reliable', Phil is dedicated to supporting the teaching of science. He spends his personal time developing his skills and also recently won the ENTHUSE Excellence Award for Science Technicians.
'I'm totally overwhelmed by winning such a key award from Gratnells and was over the moon when I heard the news that I'd won,' said Phil. 'I hope this will highlight the key role science technicians play in the support and teaching of this important subject in our schools and academies across the UK.'
Murray Hudson, managing director for Grantells, commented: 'It has been a privilege for Gratnells to support and celebrate these "unsung heroes" of the science world through our awards. We are absolutely delighted that Kathy Sykes shares our aims in highlighting the essential work tirelessly carried out by technicians across the UK'.
The other winners were Maria Dormer, Richard Huish College, Taunton (runner-up) and Julie Mayhew, City of London Freemen's School, Ashtead (third place).
Nominations for the 2013 awards are open until 18 December and forms can be downloaded from the Gratnells website.