Winners announced and prizes awarded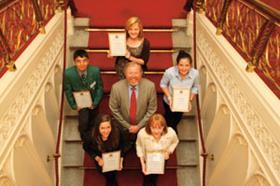 The RSC received nearly 400 informative and creative entries to the 2011 competition from both primary and secondary school students. For the first time we welcomed entries from international schools to mark the International Year of Chemistry.
The winners each received prizes of £500 for their schools plus £100 for themselves.
Hundreds of entries from around the world were received. The judging panel included Bill Bryson, the President of the RSC and three members of RSC staff.
The UK prize winners were presented with a certificate and prize money by Bill Bryson at a ceremony at the House of Commons, in the Speaker's House State Rooms.
Overall winners
Laura Hedges and Anna Highfield
Saturday morning kitchen (video)
Primary winner
Lir Afiq
Chemistry matters (comic)
Joint secondary winners
Evelyn Henderson
The beauty of chemistry: the chemistry of beauty (web presentation)
Kathryn Hughes
An agony aunt's guide to the chemistry of love (booklet)
International winners
Danran Chen and Andi Wang
Nuclear Power - how it affects us now and how it will provide in the future (video)
Bill Bryson said at the event: 'It is so inspiring for me as one of the judges to be presented with these entries every year because they are so full of enthusiasm and excitement, and that's something that can't be faked - you can really feel the sincerity.
'There are so many exciting, novel ways to convey the wonder of science. The prize gives kids a chance to shine in a way they wouldn't otherwise, and to really express themselves and experiment with what they can do.'
You can see this year's winning entries and find out how to take part in the 2012 competition, which has the theme, Chemistry and Sport on the website.