Scottish Government's latest strategy for improving the teaching and learning of science in secondary schools in Scotland.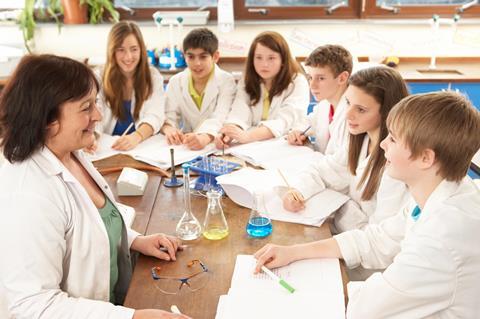 Nurturing collaborative partnerships between schools, academia and industry, and improving provision of teachers' continuing professional development (cpd), are two of the goals of a new Scottish Government blueprint for improving the teaching and learning of science in Scotland's schools. Published in September, the draft strategy is based on the outcomes of Scotland's first School Science Summit meeting held in Dunfermline in May.
School Science Summit
The summit, convened by Fiona Hyslop, MSP secretary for education and lifelong learning, brought together over 200 stakeholders in science education to discuss how the introduction of the Curriculum for Excellence (CfE) framework in schools from August 2010 could bring new opportunities to improve young people's learning, motivation and achievement in science. The CfE aims to provide a coherent, more flexible and enriched curriculum for 3-18-year olds with an emphasis on skills for learning, life and work, and improving science, technology, engineering and mathematics (STEM) education.
Delegates at the summit identified collaboration between key stakeholders as essential to deliver the teaching and learning goals of CfE. Among its proposed actions the Government will build on and develop collaborative projects similar to a Royal Society of Chemistry-Royal Society of Edinburgh project which aims to provide examples of how best the chemical knowledge and skills required at each stage of the new curriculum might be taught.1
Reaction to TIMSS result
Of concern to many summit delegates was the disappointing result for Scotland in the most recent Trends in international mathematics and science study 2007 (TIMSS) published in 2008. Although students in Scotland perform well in post-16 science (ie Higher or Advanced Higher courses), thanks to well-qualified teachers teaching in their own discipline, the TIMSS study highlighted that 'only half P5 [Year 4/5] and 68 per cent of S2 [Year 8/9] students were being taught science by teachers who felt very well prepared to teach the subject'. As a result teachers' cpd and initial teacher education were major items for the summit agenda and delegates welcomed Hyslop announcement of two new cpd courses for primary and secondary science teachers on offer at the Universities of Glasgow and Aberdeen respectively this autumn.
Other themes identified at the summit for action prior to the introduction of CfE in August 2010 were:
developing a 'seamless transition' from primary to secondary school;
improving the status and image of science in schools;
the teaching of 'real-world' science;
more creative use of ICT in teaching; and
the sharing of good practice through the creation of a 'one-stop shop' for resources.
Bristow Muldoon, RSC Scottish parliamentary liaison officer, told Education in Chemistry that the success of CfE will depend on tackling the issues raised at the summit, in particular teachers' confidence. 'Teachers using their specialist background to teach chemistry, for example, will be able to develop lessons, practicals and creative approaches to support the aims of CfE. However, teachers working outside their specialism will struggle'.
Plan of action
The Scottish Government is currently working with professional and scientific organisations to finalise the plan. Once the actions are agreed, the big test for the Government will be to commit appropriate resources to see the plan achieve its goals.
For further information on the Schools Science Action Plan and to download a copy of the School Science Summit report visit the Scottish Government website.
Related Links
Improving Science, Technology, Engineering and Mathematics (STEM) education
References
Educ. Chem., 2009, 46 (4), 103