Where does the UK MChem/MSci degree sit in the European Higher Education Area?
With just three years to go before the establishment of a European Higher Education Area (EHEA), does the UK's integrated masters - the MChem/MSci - align with the second-cycle qualifications of the Bologna Process, or does the UK chemistry community still have questions to answer?
Summer saw the publication of the Government's response to the House of Commons Education and Skills Committee inquiry into the Bologna Process and its implications for the UK HE sector.1 The report followed the biannual meeting of European HE ministers - representing the 45 signatories to the Bologna declaration - in London, in May. As a result of these deliberations, many chemists were hoping that the integrated masters (MChem/MSci degrees) would either be finally accepted as a second-cycle qualification in the European Higher Education Area (EHEA), or the UK Government would create a flexible funding model to allow the chemistry community to bring these degrees into alignment with the rest of Europe.
Government priorities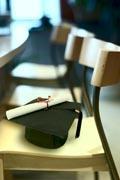 The Government's immediate priorities in relation to the Bologna Process, and the establishment of a common structure of degrees across Europe by 2010, are to:
enhance the mobility of students and staff;
establish a European register of quality assurance bodies;
implement national qualifications frameworks, which are to be self-certified against an over-arching European Qualifications Framework by 2010. (Scotland and Ireland have done this.)
Professor Terry Mitchell, University of Dortmund, told Education in Chemistry, 'UK HE chemistry needs to think hard about the mobility of its students and about a language component in its degree courses, which is a requirement of the Eurobachelor label'.
In its report to the House of Commons Education and Skills Committee, the Government makes clear that the UK HE system must retain its institutional autonomy and wants to see flexibility in course design tolerated in the EHEA. The Government has approached the European Commission to revisit the European Credit Transfer System (ECTS) so that it better reflects learning outcomes rather than just hours of study and student workload. So where does this leave the UK chemistry community?
Down to interpretation?
Continental Europe interprets the Bologna three-cycle system in terms of work loads (translated into credits and hours per week etc) and years -ie three years for the first cycle (bachelors), two for the second (masters level) and three for the third, doctorate cycle - '3+2+3'. In fact the Bologna Process only stipulates three years and 180-240 credits for the first cycle, and 90-120 credits for the second cycle, 60 of which must be at the masters level. UK HE chemistry is made up of a '3+1+3.5' system, with one year and commonly only 60 credits (or 75 for a one-year stand alone MSc) for the second- cycle qualification.
And this begs the first of many questions that the community may now want to ask itself. Should UK chemistry adopt a '3+2+3' structure to align with the rest of Europe? This may come down to whether academics think their graduates are less fit for professional practice at the end of an MChem/MSci than their European peers who would have had an extra year of study. And, is there a call from UK industry for a two-year masters course?
In answer to these questions several factors are worth bearing in mind. First, the level of chemical knowledge of European students on entry to university is not necessarily as high as that of English students. Europeans, like the Scots, tend to have a broader education in the earlier stages. According to David Barr, membership and qualifications manager at the Royal Society of Chemistry, 'The the four-year MChem in England has the same level of academic output as the five-year Scottish equivalent. Graduates with Scottish MChems are no better prepared for professional practice than graduates with an English MChem'. This is a moot point largely because employers and European academics would need to be convinced that a five-year Euromasters programme won't deliver graduates with better scientific training than those following a four-year course.
Secondly, the Quality Assurance Agency (QAA) has agreed benchmark statements for BSc(hons) and master-level graduates (which included MChem/MSci) in chemistry.2 Since QAA will be certifying the English, Welsh and Northern Ireland national qualifications frameworks against the European Qualifications Framework early next year, UK academics might well ask whether now is a good time to start putting down the four-year MChem in favour of a '3+2' option.
Thirdly, if chemists decide to pursue a '3+2+3' system, they will be on their own as far as other scientific disciplines are concerned. According to Barr, the engineers, physicists and mathematicians have no plans to adopt a five-year model for their masters-level graduates.
But it is surely dangerous to ignore the arguments for the '3+2+3' system. Many academics agree that unless UK HE chemistry aligns with the rest of Europe, in the long term UK students will have less opportunity for exchange/industrial training schemes than their European peers.
Dr Gareth Price, head of chemistry at Bath University, told Education in Chemistry, 'If other European countries develop high quality, more widely recognised programmes taught in English, we may suffer from reduced recruitment. Knock-on effects may include a reluctance of good students/researchers to come to the UK to do PhDs and postdocs'.
This view was echoed by Professor Tom Welton, head of chemistry at Imperial College, London who points out that Imperial College already offers a number of MRes courses that could be seen as providing 'year 5' of a chemistry programme. While other models may be discussed, such as a '3+1.5+3' years, Welton suggests that any deviation from the rest of Europe, other than sticking with the status quo, would be futile. 'If we deviate from the obvious model employers will never understand it.'. Professor John Dyke, head of chemistry at Southampton University, added, 'In a future competitive employment market employers will continue the present trend of preferring students with a rich experience relative to the more narrowly trained UK students. Failure to embrace Bologna can only exacerbate the difficulties of employment for UK chemists at home and abroad'.
If UK chemists decide that the '3+2+3' system is what they want, then they need to prepare a plan of action now. They will need to decide who pays for the second cycle. And they will need to take account of the extra resources, including staff costs and costs to the students, that an extra year will incur. Equally, if they decide to stick with the four-year integrated masters, then all chemists must be clear that the MChem/MSci is a postgraduate degree with masters-level outputs, research skills etc. If their courses don't fit the bill, they will need to change them. Whatever its decision, the UK chemistry community should present a united voice on where it wants to sit on the European HE stage.
References
Educ. Chem., 2007, 44 (1), 2
Educ. Chem. 2006, 43 (6), 146