A team of students from Bootham School, York, win the 2009 Top of the Bench national final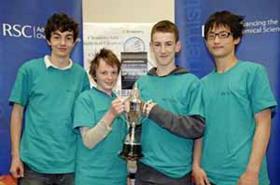 A team of students from Bootham School, York, led a field of 28 teams to take first prize at this year's Top of the Bench national final held in March. Oliver Manners, James Paul, Owen Duffey and Jia Wong (pictured below) held their nerve in the face of strong competition from second- and third-placed teams from Nottingham High School and Winchester College to win the Top of the Bench trophy and a £500 cheque for their school to spend on scientific equipment. Speaking to Education in Chemistry after the result, the winners' head of chemistry Mark Robinson said, 'the students will go away from this with a huge boost to their confidence and the knowledge that a future in chemistry could well be for them'.
Aimed at 14-16-year olds, the competition is organised by the Royal Society of Chemistry (RSC). In a change from its regular Science Museum venue this year's final was held at Loughborough University's department of chemistry as part of the East Midlands innovation festival - a six-week celebration of the importance of innovation to business success organised by the East Midlands Regional Development Agency. To reach the final, the teams, comprising four students (two from Year 9, one from Year 10 and one from Year 11 - or equivalent) had to compete in regional heats, run by the RSC's local sections. In the final the students had to complete a quiz designed to assess their knowledge of chemistry. In a test of their problem-solving skills and competing against the clock, the teams then had to complete successfully a practical activity to determine the concentration of a copper solution. While the students battled it out their teachers had the opportunity to tour the Loughborough campus and learn about the university and its undergraduate admissions procedures.
In addition to the competitive tasks on the day, Loughborough chemists showed the students how to synthesis indigo and Prussian blue dyes. For his outstanding contribution on the day John Evans from St Bees School, Cumbria was presented with the Jacqui Clee award.
Regional heats for the 2010 competition final will take place in the autumn term. To enter a team schools should contact the secretary of their RSC local section. For further information on the competition contact Lorraine Hart at the RSC.
Contact and Further Information
Education Department
Royal Society of Chemistry, Thomas Graham House, Milton Road, Science Park, Cambridge CB4 0WF, UK
Tel: +44 (0)1223 432221
Fax: +44 (0)1223 423623
Email: Education Department