This monthly online challenge continues into 2013
This week 39 students from 29 schools across the UK have received awards to celebrate their success in the Cambridge Chemistry Challenge Lower 6th Competition. Winning students fought off competition from 4300 students in 300 schools. The winners each received a crystal trophy depicting the electron density of a hydrogen atom, at a ceremony on Monday at the Royal Institution in Piccadilly, London.
The Challenge aims to stretch and challenge budding chemists. The 90 minute written paper takes Year 12 students in the UK significantly beyond the chemistry syllabus, and encourages them to think about science in the way they would at university.
It forms part of a wider, year-long online competition, the Cambridge Chemistry Challenge, an innovative web-based competition for chemists around the world. Open to anyone, any age from anywhere in the world, the Cambridge Chemistry Challenge is designed to extend students' chemistry knowledge in a challenging yet fun way. The monthly online competition is comprised of five levels. Students progress by answering Google-proof questions, and those who complete all the levels are rewarded by appearing on the online Honours Board.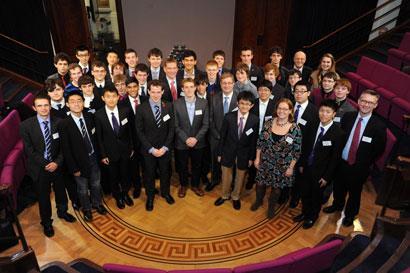 The competition has been developed by Peter Wothers, teaching fellow at the department of chemistry, University of Cambridge. He said: 'It is encouraging to see this competition strike a chord with so many students. The competition allows students to apply knowledge of other subjects, think creatively and take their knowledge to the next level - these are exactly the kind of skills which are needed for university.'
The Cambridge Chemistry Challenge will continue into 2013 due to popular demand from students and teachers. There will be new monthly competitions from November 2012 to June 2013. Visit the website to find out more.
Related Links
Take part in this monthly online challenge
External links will open in a new browser window