The Royal Institution's 2012 Christmas Lectures will be presented by chemist Peter Wothers
The Royal Institution's (RI) 2012 Christmas Lectures will be presented by chemist Peter Wothers in a demonstration packed, three-part series called The modern alchemist.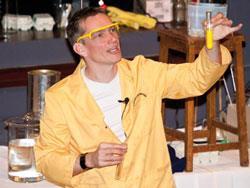 A teaching fellow in the department of chemistry at the University of Cambridge, Peter will unpick the chemistry of the world around us - looking at air, water and earth - three of the ancient Greek elements that tantalised alchemists for centuries. He will explore the cocktail of gases that make air our elixir of life, and how water may hold the key to a solution to our energy problems.
He delves into the bowels of the Earth to uncover the elements that fascinated our ancestors and how through understanding the properties of materials like silicon, we can enter a new era of chemistry in which we can engineer electrons in new configurations for future technologies.
Peter said: 'It's such an honour to be selected to give the 2012 Christmas Lectures. I first became interested in chemistry at the age of eight with my first chemistry set. The spark that first ignited my interest has never faded, the only difference now is my chemistry set is much bigger. I look forward to sharing my work and love for chemistry with the audience at home and in the RI's famous theatre.'
The lecture series this year is sponsored by the Royal Society of Chemistry (RSC). Robert Parker, RSC chief executive, said: 'We are delighted to be supporting The modern alchemist. It's a great opportunity to demonstrate the importance and excitement of chemistry to a wider audience, and to highlight the educational resources the RSC provides for teachers, students and parents'.
Filmed in front of a live audience in the iconic theatre at the RI, the original science events for children were started by Michael Faraday in 1825.
The modern alchemist will air on BBC Four in late December. You can watch past Christmas Lectures on the RI's science video channel.