The first in a series of evaluations of the Twenty first century science GCSE course shows that the course is an improvement on traditional courses
Robin Millar of the University of York has completed the first in a series of evaluations of the Twenty first century science GCSE course.1 The evaluation focused on the first two years of the project's three-year pilot phase, which started in 2003 and involved over 12,000 students and their science teachers in 78 schools and colleges across England. Millar investigated teachers' perceptions of the course in comparison to more traditional science courses and asked them to identify successful or unsuccessful aspects of the course.
Open response questionnaires were distributed to teachers who attended the residential training courses provided by the project team. Responses to the questionnaire were coded on a five-point scale, ranging from very positive to very negative comments.
Almost 90 per cent of respondents said that the course improved students' scientific literacy and prepared students to discuss topics, question ideas and listen to others. Asked about the differences between the new course and traditional science courses, teachers believed that the Twenty first century science course required students to think about science, rather than simply regurgitate facts. According to Millar, this perhaps led some teachers to believe that the course might be better at engaging higher achieving students and less effective with those who are less able.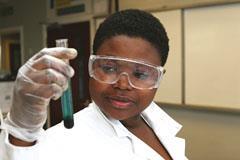 Feedback from teachers showed that most students were able to relate to the course content because they appreciated its relevance to their everyday lives. However, there were topics that students didn't find interesting, eg Earth science and cosmology, and some students were disappointed at the lack of practical work. Aspects of the course teachers particularly liked included the links to present day science, the ICT resources provided and the use of case studies, especially those on ethical issues linked to the citizenship curriculum.
Millar reports that this initial review showed that teachers and students considered Twenty first century science to be an improvement on traditional courses. With the course moving from pilot phase to full implementation, three further external evaluations will be run.
References
R. Millar, Int. J. Sci. Educ., 2006, 28 (13), 1499.