Criteria for GCSE science 2011 specifications put more emphasis on assessment of practical work and mathematics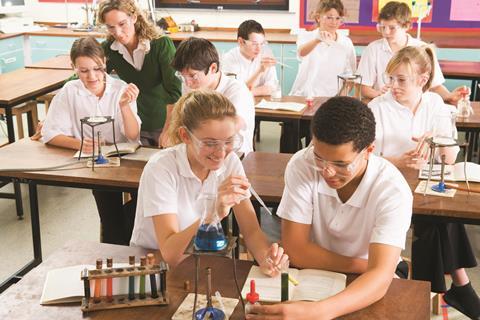 In December Ofqual, together with its regulatory partners in Wales (DCELLS) and Northern Ireland (CEA), published new criteria for GCSE science subjects on which the 2011 specifications will be based. The criteria aim to address concerns about a decline in GCSE examination standards detailed in reports published by Ofqual in March 2009, and by SCORE, the science community representing education, in July.
According to Ofqual, the 2011 specifications will have to ensure that they have a valid assessment model for 'How Science Works' and individual assessments will have to discriminate accurately across the full ability range of candidates. There is more detail given on assessment generally and 'controlled assessment' is defined as being 'directly related to candidates' practical work'. Students will have to plan, carry out, interpret and evaluate a practical investigation. The mathematical knowledge, understanding and skills at this level are now set out in the criteria. Ofqual is meeting with the science community to clarify the mathematical skills that are fundamental to each of the separate sciences.
The content of GCSE chemistry will continue to be made up of the chemistry in GCSE science plus that in additional science, plus 'some extra material'. The latter is not specified - the criteria simply state that the specifications must contain sufficient additional appropriate content to merit 120-140 guided learning hours.
Andrew Hunt, chemical education consultant, told Education in Chemistry, 'This is excellent because it makes clear that chemistry in GCSE science plus that in additional science is all that is required for preparation for post-16 courses, and allows the awarding bodies to be creative in developing their GCSE chemistry specifications'. The criteria can be found on the Ofqual website.