John Dexter reviews this great resource for Key Stage 4
ICT in practical science: new approaches to data collection and analysis
Gatsby SEP
London: Gatsby SEP 2009 | Pp52 | £6.00 | ISBN 978 0 85404 190 9
Reviewed by John Dexter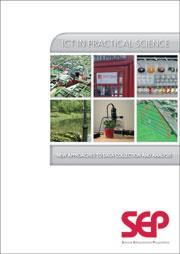 A great 28-page resource aimed at Key Stage 4, that shows how ICT can enhance, but not substitute, practical work. The content covers collecting and interpreting first hand data, and is written by teachers and clearly recognises classroom constraints. Twelve activities are presented (such as Parachutes, Habitats, Pollution, Trainers, Indicators, Photosynthesis, etc) and each has four briefs: an introduction, an outline method, a way to make sense of the data (including questions/discussion points) and suggestions for further investigations.
The A4 booklet is produced in colour with clear illustrations and it is well written. Some topics are familiar, some novel and some aimed at each specialism. The resource will be ideal for those departments who haven't really got to grips with data logging and ICT but also for those wanting to extend their repertoire. An example for chemists is the combustion experiment of an 'experimental' fire in a fish tank to demonstrate humidity, oxygen and carbon dioxide levels, with discussions on why the oxygen doesn't drop to zero, can we explain the data patterns, and whether the advice to 'stay close to the floor in a fire' is wise or not. I applied a simple test: could these activities be done better any other way? The answer was always no.
If you want creative and workable ideas to start data logging at Key Stage 4 or to improve your approach, get hold of this excellent, well researched and well thought out resource.