A new initiative, launching in 2008 as part of the International Year of Planet Earth (IYPE), will offer science teachers fresh ideas on teaching about Earth science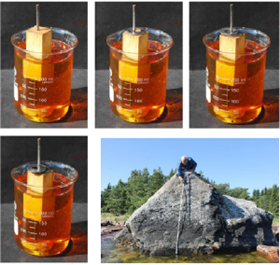 Earthlearningidea (Eli) is a new initiative launching in 2008 as part of the International Year of Planet Earth (IYPE). Developed by volunteers Chris King, Peter Kennett and Elizabeth Devon from the Earth Science Teachers' Association (ESTA), the Eli initiative will publish weekly a new, innovative Earth-related teaching idea on the Eli website during 2008.
Aimed at science and geography teachers and teacher trainers, the ideas will be available as pdf files to download. Each idea will involve simple practical activities designed to teach students about the Earth and important scientific or geographical principles in a way that will engage them and develop their thinking skills. The ideas, will require minimal resources so that they can be used in nearly every classroom around the world. A sample activity, Quake shake - will my home collapse?, is already published on the website and from September to December 2007 another activity will be published each month.
The initiative also aims to encourage discussion among teachers from across the world through its Earthlearningidea blog. Here teachers will be able to comment on the activities published, ask questions and suggest their own ideas for teaching Earth science in schools. Currently, the Eli team is trying to set up a support group of scientists, geographers and educationalists who will respond to queries raised through the blog discussions.
For more information on the initiative and to subscribe and download the teaching activities for free, visit the Eli website. If you want to get involved with the initiative by joining the support group, or comment on the published activities, contact the Eli team.