The teaching of organic and physical chemistry at A-level will benefit from new resources developed by the RSC with funding from Shire and Reckitt Benckiser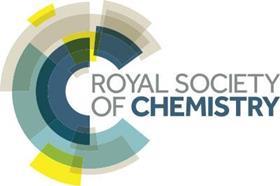 The Royal Society of Chemistry (RSC) is to use funds totalling £500,000 from two new industrial partners to advance the teaching of A-level chemistry in schools and colleges in the UK. Colin Osborne, education manager schools and colleges at the RSC, told Education in Chemistry: 'The Society will use the funds to produce ICT-based resources designed to introduce modern contexts relevant to the A-level chemistry curriculum'.
The RSC will receive £250,000 over the next five years from biopharmaceutical company Shire to improve the teaching of A-level organic chemistry. The company will also be sponsoring an award for top A-level chemistry students.
Reckitt Benckiser, the company behind such household brands as Cillit Bang, Vanish and Nurofen, has committed £50,000 per annum for five years for the RSC to develop new materials for A-level physical chemistry.
Organic chemistry
Osborne explained that an initial idea for the organic chemistry project is a web-based tool which will be underpinned by a database of organic compounds. As well as provide information on compounds' physical properties, structures and formulae etc, the database would include details on the reactions they are commonly involved in (reduction, nucleophilic substitution etc), results from common chemical tests and analytical spectra. Students would then use these data to build an animated reaction scheme for a product's synthesis from a given starting material. 'A Shire drug, such as its ulcerative colitis treatment Pentasa (5-aminosalicylic acid), could provide a modern context for an exemplar of a step-wise organic synthesis', said Osborne. The package could also act as a useful assessment tool. In a test mode students might be required to use their knowledge of organic chemistry to select the correct reagents, conditions or intermediates missing from a reaction scheme.
Physical chemistry
The recently revised A-level specifications will see several thermodynamics topics reinstated. Electrode potentials, Ellingham diagrams and Gibbs free energy, and entropy and disorder will join topics such as equilibrium mixtures at A2-level. To support the teaching of these topics the RSC will use funds from Reckitt Benckiser to produce web-based packages that let students explore each concept. According to Osborne, 'the teaching of equilibrium mixtures could be enlivened by using some of Reckitt Benckiser's familiar household products, such as Cillit Bang and Calgon, to provide interesting contexts for the topic'.
With the new A-level specifications set for first teaching in September 2008, the RSC aims to have both resources ready by next summer.