How do we encourage the best chemistry students in schools and colleges to go on to study chemistry at university and become the next generation of chemistry teachers?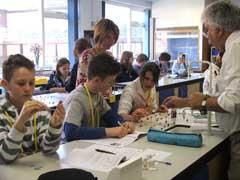 How do we challenge and enthuse the best chemistry students in schools and colleges to go on to study chemistry at university, and eventually become teachers to inspire the next generation of chemists? The Chemistry Network, launched in April with funding from the Department for Children, Schools and Families (DCSF) to the tune of £190 000 for three years, aims to address the problem by targeting 'able, gifted and talented' (AG&T) chemistry students, initially in years 9 and 10 but eventually across all key stages, with activities that will challenge and take them beyond the curriculum.
The Chemistry Network
The brainchild of chemistry teacher Andrew Thompson, the Chemistry Network is a partnership between four schools - one independent school and three state maintained schools - in the Fenland area, which has a particularly low university uptake. The project is supported by the Royal Society of Chemistry (RSC), who is providing advice and resources, and the Science Learning Centre, East of England, who is hosting a virtual learning environment for the network. Thompson told Education in Chemistry, 'I was becoming increasingly concerned about the lack of uptake in chemistry in schools and universities. Chemistry is losing good students because their learning lacks challenge, sometimes being taught by non-specialists, and their inability to see careers in chemistry other than medicine, veterinary studies and pharmacy. AG&T support is variable around schools and can be lacking altogether in chemistry'.
Apart from teaching a couple of A-level groups a week at The King's School, Ely, Thompson dedicates his time to leading and managing the project on a day-to-day basis. His colleagues from the three other schools - Charles Dallywater (Abbey College of Technology), Stephen Wright (City of Ely Community College) and Brian Taylor (Witchford Village College) - work with him to organise events and run the some of the activities.
What's on offer?
To-date the Chemistry Network has already run masterclasses for KS3 and KS4 students. Typically, the masterclasses cover thinking skills and a practical activity, such as the steam distillation of limonene and chirality (at KS3) and Discover spectroscopy (at KS4). The latter has been developed by Pfizer chemist David Fox and is delivered by the University of East Anglia. KS4 students are introduced to chromatography and spectroscopy (FT-IR and UV-Vis), and do practical work to separate and identify paracetamol and aspirin, and discover the three dimensional world of drug design.
On the Chemistry Network agenda for the coming years are myriad activities and initiatives, including:
inset for teachers, delivered by Thompson, which aims to show teachers how to identify AG&T students and what they can do to help them achieve their potential;

career forums organised by the RSC;

use of Chemistry for the gifted and talented, an RSC resource written by chemistry teacher Tim Jolliff, which covers problem-solving, critical thinking, mind mapping and exploration exercises, all designed to extend students understanding while developing their skills in analysis and evaluation;

mentoring for students to help them take part in the Chemistry Olympiad, the Advanced Extension Award and extended projects;
Thompson and his team are currently developing links with industry and research centres to give students an opportunity to meet professional chemists who can advise them about career choices. They are also liaising with university chemistry departments to give students a perspective of HE, including what it is like to be a chemistry undergraduate. And to keep everyone informed of the news and views of the Chemistry Network Thompson will be writing a termly magazine for the students, their parents and teachers.
For more information on the Chemistry Network contact Andrew Thompson (e-mail: andrewthompson@waitrose.com).