Wendy Brown reviews the new edition
Experimental physical chemistry: a laboratory textbook (3rd edn)
Arthur M. Halpern and George C. McBane
Basingstoke: W. H. Freeman 2006 | Pp608 | £28.99 | ISBN 0 716 71735 2
Reviewed by Wendy Brown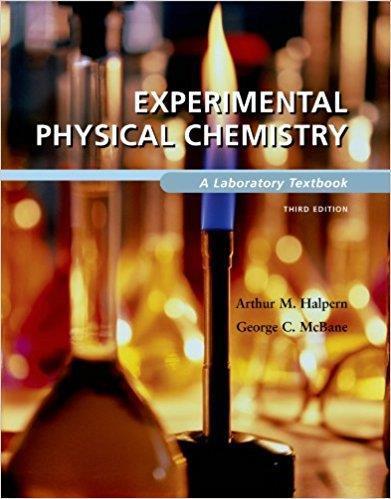 This is an interesting undergraduate chemistry textbook because, in contrast to most other textbooks in this area, it deals solely with aspects of practical undergraduate physical chemistry. The book would be most suitable for first- and second-year undergraduates and is divided into two parts: the first deals with data collection and analysis; and the second provides a series of experiments that illustrate various aspects of a standard physical chemistry undergraduate course.
The initial section is an excellent introduction to laboratory work and guides students through some important areas that, as lecturers, we often take for granted, including how to keep a good laboratory notebook, analyse data and write a report. I particularly liked the clear section that deals with errors and uncertainties, and the differences between these, because this is an area that students often find difficult.
The section on combining errors is particularly good and all of the methods given are illustrated with relevant examples from physical chemistry. There is also a useful and informative chapter devoted to data analysis using Excel (and specifically the Scientific Data Analysis software add-on for Excel).
The experiments form the main part of the book. Each experiment is self-contained, giving full details of the theory and methodology, as well as the safety aspects and required analysis for each experiment. All experiments are relevant to material taught in any standard undergraduate physical chemistry course and would serve to illustrate various aspects of background theory well. The inclusion of two computational experiments is a welcome addition, given that many aspects of modern physical chemistry now rely on computational techniques.
I liked this book and would definitely consult it when designing and updating experiments in our physical chemistry practical classes. However, though the book is aimed at undergraduates and the first section is of undoubted use to physical chemistry students, I am not convinced that they would buy it unless it was the specific textbook for their practical course.