Neil Dixon reviews this collection of videos, animations and worksheets
Go with the flow
Peter Hollamby
London: Gatsby SEP 2006 | PpGo to website | £6.00 ex VAT |
Reviewed by Neil Dixon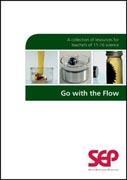 Produced by the Gatsby Science Enhancement Programme (SEP), Go with the flow is a collection of videos, animations and worksheets designed to help students understand the principles of floating, sinking, density, viscosity and Newtonian and non-Newtonian fluids. Most of the resources are aimed at 11-14-year olds, but some of them will be of particular interest to more able students at KS3, or to KS4 students.
The contents of the CD-ROM can be run direct from the disk, loaded onto the PC's hard drive, or networked for use by a whole class. The resources are well organised and the interface is intuitive.
Several interactive activities allow students to choose different items and predict whether they will float or sink in different liquids, before testing their predictions using the video clips or animations provided.
The first activity investigates different fruits in water, which could be used as a recap of a similar practical activity done by students in the laboratory. Owing to financial and practical constraints in some school science departments, activities provided involving other combinations of solid and liquid will be more valuable to teachers, eg steel floating in mercury, osmium sinking in mercury, polymorph floating in paraffin.
Another section of the resource demonstrates clearly to students how to measure volume of regular and irregular shaped objects, and then how to calculate density. It is reassuring that this section covers how to avoid parallax error when using a measuring cylinder. Having covered this section, students revisit the concept of floating and sinking, this time being encouraged to calculate the density of solid and liquid before making their predictions.
The more advanced sections of the resource provide students and teachers with the opportunity to investigate viscosity and Stokes' Law (which will appeal to colleagues in the physics department) and an exploration of non-Newtonian fluids. Teachers familiar with the joys of working with young learners and substances such as slime, silly putty, polymorph and the cornflour-water mixture will find this section interesting, if rather advanced in its explanations.
Teachers can use the video clips and animations provided on the CD-ROM to create their own resources to incorporate into their lesson plans. In addition to some really valuable video clips, worksheets and teacher notes, details of suppliers are also included. Peter Hollamby has continued his productive relationship with Gatsby SEP and developed another timely and flexible resource that many teachers will find useful.
Related Links
Teaching resources