In March, young scientists quiz politicians on UK science at the Royal Society of Chemistry's (RSC) Voice of the future event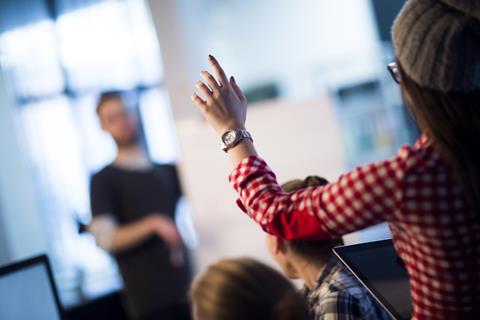 In March, the Royal Society of Chemistry's (RSC) Voice of the future event brought together ca 150 young scientists from industry and academia across the UK, including 40 sixthform students from four London-based schools, to discuss issues in science with members of the recently renamed Commons select committee on innovation, universities, science and skills at Westminster's Portcullis House.
Now in its sixth year, this annual event, run by the RSC on behalf of the scientific community, aims to build and maintain a constructive dialogue between Parliament and the scientific community. Members of the panel, comprising six of the 14-strong select committee and chaired by Phil Willis MP, gave their views on scientific issues raised by the audience. Among the topics close to the hearts of the young delegates were sustainability, women's representation in science faculties and research funding.
The UK's slip to rank 17th out of 57 countries in the recently published PISA 2006 survey of the knowledge and skills of 15-year-olds was a concern for Dr Stephen Bremner of the London School of Medicine and Dentistry. He asked the panel what should be done to improve numeracy and literacy skills in UK schools. The politicians agreed that enthusiastic teachers with relevant, subject-specific qualifications are vital for effective teaching, particularly in the science subjects. Dr Brian Iddon MP commented that teachers need to be given more support and opportunities to re-invigorate their teaching by pursuing CPD outside the classroom. Dr Ian Gibson MP called for new teaching materials based on modern contexts for subjects such as maths and physics. Finally, Tim Boswell MP put it to the audience that they had a part to play in encouraging the next generation of scientists by acting as ambassadors and visiting schools and colleges to speak about their experiences in science.
The minister for science and innovation, Ian Pearson MP, took up the challenge of fielding questions from the audience. Asked by a sixthform student from Wallington High School for Girls how the best science students could be encouraged to pursue careers in science, Pearson said that career decisions are, ultimately, down to individuals. However, he admitted that the Government must ensure that some of the best young scientists stay in the subject by continuing to invest in the UK's science base and world-class university system.
Following the Government's recent announcement to create 20 new universities in England by 2014 using £150 million set aside from the Higher Education Funding Council for England's (HEFCE) strategic development fund, a delegate asked the minister what prominence science should take in these new institutions. Pearson said that he wants to see science, technology and innovation be major parts in all these new HE centres, the sites and funding of which will be decided through a HEFCE-run 'new university challenge' bidding scheme for interested communities.