The RSC has launched a new set of physical chemistry resources called Challenging plants, which helps 14-18 year old students to explore the chemistry of plant life and soil science
The material contains nearly a hundred videos, worksheets, handouts, presentations, and experiments. Some of the practical investigations include determining the cation exchange capacity of soil using methylene blue and colorimetry, and determining the soil/water distribution coefficient using a zincon titration.
'We're grateful to Reckitt Benckiser for their support in developing Challenging plants' said Alex Kersting, RSC education executive. 'We think it's a great way of introducing some practical physical chemistry into an everyday context.'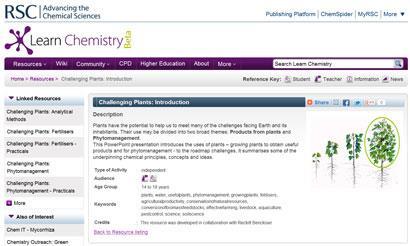 On a visit to the RSC offices in Cambridge, Jim Paice, minister of state for agriculture and food, said 'I was quite staggered by the effectiveness of this material.'
The RSC had invited the minister so that it could make the case for better skills provision in soil science. Mindy Dulai, RSC programme manager in environmental sciences said '[we wanted to discuss] the skills pipeline relating to soil science, where there is a real problem. Soil science is difficult, but we need to face this head-on in the UK and make it one of our national strengths.
'Soil's wellbeing is vital for our national health and wealth and it is high time we gave it the respect it deserves. With the UK continuing to import a large proportion of its food, it will not be long before we feel the impact from the loss of such a precious resource on a global scale.'
Challenging plants is available via the Learn Chemistry platform.
Related Links
Access this resource via Learn Chemistry