The RSC has launched the latest in their Faces of Chemistry video series which teaches chemical concepts in real life contexts. To tie in with the Olympics the new video explores career possibilities for scientists in the world of sport and shows the science behind biosensors.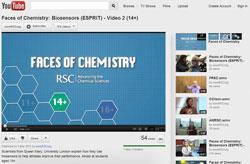 This Olympic special looks at the work done by chemists who are part of the ESPRIT project and specialise in sport performance research at Queen Mary, University of London. It explores research at the material science laboratory where analytical chemists develop biosensors which continuously monitor biochemical and physiological changes in an athlete's body during training. They can use the information from these biosensors to help coaches improve their athletes' training programmes and recover quickly from injuries.
New training regimes can give British athletes a competitive advantage at London 2012, so much of the research in this lab has been clouded in secrecy!
You can access the videos via Learn Chemistry.
Related Links
Faces of Chemistry - Biosensors
The latest videos on Learn Chemistry