UK A-level chemistry students can improve their understanding of chemistry by tackling challenges set at the online chemistry assessment website, Bestchoice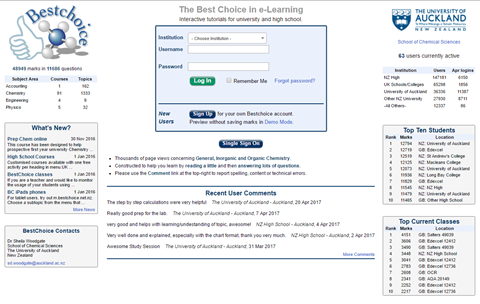 From the start of the new academic year UK A-level chemistry students will be able to use the University of Auckland's online chemistry assessment website, Bestchoice, to improve their understanding of chemistry. Originally developed by Dr Sheila Woodgate of the department of chemistry at the University of Auckland for New Zealand school, college and university students, the site has recently been tailored by Woodgate to UK A-levels with support from the Royal Society of Chemistry (RSC).
Bestchoice now boasts an online set of exercises containing questions on chemistry covered in the specifications of the major UK awarding bodies. The website is designed to support the use of formative assessment and assessment for learning to enhance the students' learning experience. Students are encouraged to read and learn about a topic and then attempt questions on what they have covered. As they work through the exercises, students get instant feedback to support their learning. The questions are similar in style to A-level structured questions and students navigate around the site by using links to the particular specification of the awarding body of their school or college chemistry course. Useful background chemical information, such as an online Periodic Table, is also provided.
This assessment tool also stores students' responses in a database - Bestchoice reports. Teachers can access their students' data and use these to gain a better understanding of the strengths and weaknesses of their students and to inform their own teaching. For example, the reporting system allows teachers to see, for either individual students or the entire class, how long a problem took and how 'difficult' the students found it. If the data show that a whole class finds a topic difficult then teachers may need to modify their method. In addition, because students' responses are stored, students who cannot work out how to get a particular answer can show their teacher, who will be able to see exactly where their misunderstanding lies.
The Bestchoice website is freely available to schools and colleges. To access the resource schools and colleges must register with the RSC by contacting Mike Thompson, RSC education consultant.
Related Links
BestChoice contains over 2500 (and increasing weekly) page views concerning General, Inorganic and Organic Chemistry