The Salters' Institute announces details of chemistry events for 2011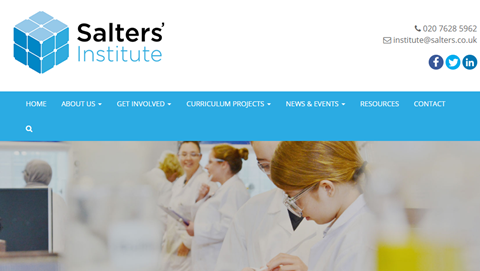 Festivals of Chemistry 2011
The Salters' Institute, in partnership with the RSC, will be holding 51 Salters' Festivals of Chemistry between March and June. These one-day events will be held at various Universities throughout the UK and the Republic of Ireland.
Each festival will feature hands-on practical chemistry challenges in university laboratories, chemical demonstrations and a prize giving ceremony.
All pupils taking part will receive fun prizes and participation certificates. Prizes will be awarded to the winning schools and members of the winning teams will receive individual prizes and certificates.
Entry is restricted to one team of four students from Years 7 and/or 8 (Years P7 and/or S1 in Scotland, Year 8 and/or 9 in Northern Ireland and final year primary school and/or first year secondary school in the Republic of Ireland).
Places are allocated on a first come first served basis and the closing date for entries is 31 January.
Apply online or contact the Salter's Festivals Administrator
Chemistry Camps
19 Salters' Chemistry Camps will be held between June and August 2011. These three day residential events at universities throughout the UK are for Year 10 pupils (Year S3 in Scotland, Year 11 in Northern Ireland, Year 3 in the Republic of Ireland) from all secondary schools in the UK.
Teachers may nominate four students to experience hands-on practical chemistry, a taste of life in the university halls of residence, lively chemical demonstrations and evening social activities. A maximum of two students of the four will be selected for each Camp.
Applications will be considered in the order that they are received and no closing date has been set. Therefore, pupils are advised to apply as early as possible.
Salters are also looking for teachers with a minimum of two years' experience in teaching chemistry to teach at their Camps in 2011 and future years.
To nominate pupils or apply to work at the Camps yourself visit the website or contact the Salters' Camps Administrator.
Awards for technicians
Nominations are open for the Salters' National Awards for Science Technicians.
The awards were established in 2002 in collaboration with the Association for Science Education, CLEAPSS, the Institute of Physics, The Royal Society, The Royal Society of Chemistry and The Society of Biology and are open to science technicians in schools and colleges who have a total of 5 or more years' experience (either full-time or part-time).
The aim of the Awards is to acknowledge publicly the contribution that science technicians make to the well-being and success of schools and colleges and, in particular, to science departments.
Headteachers or Heads of Science can nominate a technician using the methods outlined below and the closing date for nominations is 1 March 2011.
For further information see the website or contact the Salter's Publicity Co-ordinator.
Contact and Further Information
Related links
Salters' Festival of Chemistry