Royal Society (RS) took over London's Southbank to celebrate its 350th anniversary
To celebrate its 350th anniversary (See Ed. Chem., 2010, 47, 99) the Royal Society (RS) took over London's Southbank in June for a 10 day festival of science and art. The See Further festival featured talks from scientists such as physicist Brian Greene, doctor and newspaper columnist Ben Goldacre and mathematician Marcus du Sautoy. The BBC's Bang goes the theory set up an interactive science area and showed off their coffee powered car that travelled from London to Manchester earlier this year. Pop group They might be giants, whose songs include Meet the elements, performed an evening concert and a family friendly matinee at the Royal Festival Hall.
Also in the Royal Festival Hall, research groups from around the country set up stands to demonstrate their work to visitors interested in science. Scientists from the Diamond light source explained how they were using X-rays to look at the structures of different proteins. 3D models of the molecules that Diamond have studied allowed the researchers to illustrate the protein binding sites that pharmaceutical companies target. The large synchrotron - the size of five football pitches - is illuminating the molecular world.
A team from the University of Southampton, University of Manchester and Sheffield Hallam University explained that liquid crystals are orientated in one direction and how they are used in the liquid crystal displays in your calculator and 3D displays for computers and televisions. Meanwhile, Paulo Bombelli, a PhD student at the University of Cambridge demonstrated his biological photovoltaic cell that uses photosynthesising algae as the electron source to produce the same power as an AA battery.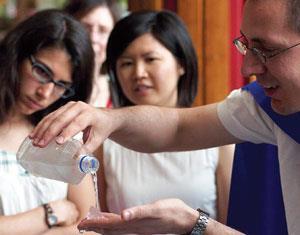 A molecule's eye view of water was an exhibit that drew crowds with its demonstrations of supercooled water and computer simulations made into games. The group of UCL scientists led by Angelos Michaelides researches ice in its 15 different forms and has discovered one form of this ice itself. These densely packed forms of ice exist at low temperatures and high pressures and ice that exists elsewhere in the universe may exist in these forms.
Michaelides, who in May won the RSC's 2010 Marlow Award in 'recognition of the most meritorious contributions to physical chemistry or chemical physics', was on hand to demonstrate various properties of ice. Michaelides supercooled filtered water to below 0 oC and poured the water onto his hand, where it immediately froze into strangely shaped towers of ice. Michaelides then explained that ice crystals grow from nucleation points - like dust in the water - that are removed by filtering, allowing the water to be cooled below 0 oC. His hand provided a nucleation point.
By using supercomputers to study how ice grows from nucleation points on different surfaces, Michaelides and his coworkers can model how ice grows on structures like aircraft. Visitors to the molecule's eye view of water stand used a supercomputer to try and melt ice crystals and played the team's Waterfall game on the Apple iPad or iPod Touch. The game involves stacking water and hydroxide molecules in the classic hexagonal structure of ice as the molecules fall from the top of the screen in different orientations. The game is available for free from itunes.
The See Further festival website is still online with teaching resources mapped to the curriculum.
Related Links
Waterfall is a simple, fun, and highly addictive game that teaches you about ice and nanoscience