Practical guidance to make evidence-based teaching accessible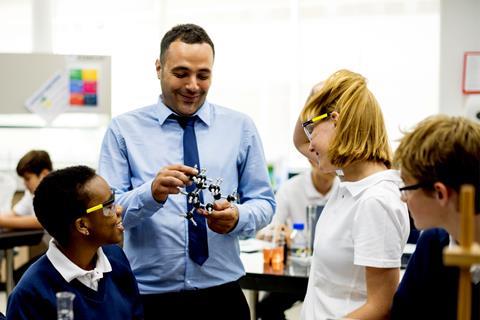 Students should be explicitly taught how to plan, monitor and evaluate their own learning in science classes, according to a report from the Education Endowment Foundation (EEF).
The idea, dubbed 'self-regulation', is one of seven recommendations set out in Improving Secondary Science, which focuses on practical advice for teaching key stages three and four. Each of the areas covered is broken down into basic steps, accompanied by examples of good practice. All recommendations are evidence-based and tailored to support disadvantaged students.
Emily Yeomans, head of programmes at EEF and one of the co-authors of the report, said the guidance was a 'starting point to talk about evidence-based secondary science teaching.' The report will be supported with an auditing tool that will allow teachers to identify areas where lessons can be improved, and a CPD course aimed at heads of department from January 2019.
In addition to self-regulation, the report also covers how to use students' preconceptions to make science accessible. This includes how to identify preconceptions that may exist, challenge them in class through discussion and show students how their thinking develops over time.
Other recommendations look at how to support understanding with models, revisit topics to ease cognitive load, ensure practical work has a purpose and provide structured feedback as comments rather than marks. The guidance also suggests ways to improve students' science vocabulary, including how familiar terms can have different meanings when used in a scientific context. Previous research from EEF has shown a strong link between students' literacy and reasoning skills with attainment in science subjects.
Niki Kaiser, a teacher at Norwich Research School who was on the report's advisory panel, believes the ideas raised will not be a surprise for many experienced educators. 'It's the things I have developed over 12 years of teaching,' she said. However, she argues the practical approach will give teachers short on time an easy way to identify the most effective, evidence-based ways to help their students. 'We can't do everything, so what are the things that will help most? We have to think about that balance all the time … that's why this support is important. It tells you why [advice has been given], as well as what to do.'
Kit Chapman is comment editor for Chemistry World and an internationally award-winning science journalist