Perception of difficulty and lack of relevance to careers to blame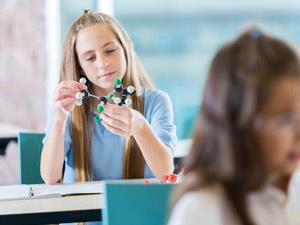 A new report reveals engagement with maths and science declines by 74% among girls and 56% among boys during secondary school.
Tough Choices, published by the Your Life campaign, blames the lack of knowledge among teachers and parents about job prospects for maths and science subjects. 'Students are not just uninformed, they are ill-informed about the value of STEM for their future careers and livelihoods and about the value of STEM in the labour market in general.'
It also criticises schools that recommend STEM subjects only to 'ultra-bright' students. 'Many teachers and parents push students to prioritise good grades and as a result steer them away from STEM.'
Combined v separate sciences
The report adds that the current approach to combined and separate science choices at GCSE has a big impact on whether students continue with the subject at A-level. Students who take combined sciences, often a choice made for them by the school, are two to three times less likely to take the subject further.
'Streaming has two effects. It sends the message to many [combined] science students that "science is not for you". It also means that, if they do choose to proceed with an A-level, they are starting at a disadvantage, as they have covered less of the curriculum than their [separate] science peers.'
Recommendations
The report makes a series of recommendations. It asks employers to emphasise STEM in their recruitment and influence careers advice. It calls on government to improve the quality and quantity of STEM teaching, ensuring teaching methods are relevant and engaging with an emphasis on practical applications. It also asks teachers and parents to change the message students receive from 'it's hard' to 'you can do it'.
Economic effects
Tough Choices was written by consultants A.T. Kearney for the Your Life campaign in partnership with the Confederation of British Industry (CBI). The CBI warns that without significant change, the current STEM worker shortfall of 40,000 each year will continue, causing the UK economy to fall further behind other countries.
Paul Drechsler, CBI president, said: 'Education is a shared passion for government, business, schools and parents – who all want the best for young people. As the business community we have a role to play – offering support to teachers and headteachers, inspiring young people and giving up-to-date insights into the world of work.'