The Association for Science Education (ASE) has published the full programme for its forthcoming Summer Celebration Conference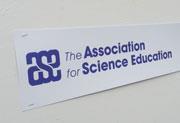 This continuing professional development (CPD) event for science educators will include practical sessions, workshops, debates and a number of special events. Sessions include support for classroom assessment, using mobile technology, resources for practical science and inquiry learning.
Discussions feature Martin Rees and Robin Millar on whether the secondary curriculum can provide science for all in addition to education for future scientists, Brenda Keogh and Stuart Naylor challenging perceptions of school science and John Holman looking at accountability. Simon Mayo, BBC radio presenter and author of children's books will talk about how scientific ideas and facts can be woven into exciting fiction for young audiences.
Annette Smith, ASE chief executive, said 'The programme for the ASE Summer Celebration Conference contains exactly the features that we were hoping for when we first planned the event. As well as reflecting on the difficult questions that affect the teaching of science, such as how best to teach the maths within science, we'll be looking to the future, tackling policy and providing some practical ideas. We're very excited about the programme and we're looking forward to welcoming science educators to the science education event of the summer.'
The event runs from the 27-28 June 2013 at the University of Hertfordshire. For more information, and to book your place, visit the ASE website. [Link no longer available]