In September 2008 three teachers left the classroom to take up one-year secondments at English universities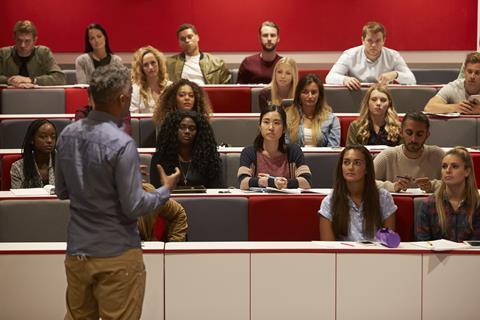 In September 2008 three teachers left the classroom to take up one-year secondments at English universities as part of the continuing Teacher Fellowship Scheme of the Royal Society of Chemistry (RSC)-led Chemistry for our future initiative (CFOF).1 Anne Willis of La Sagesse School, Newcastle, Peter Hoare of Ponteland Community High School, Newcastle, and Cheryl Sacht of Esher College are full-time school teacher fellows at the Universities of Northumbria, Newcastle, and University College London (UCL) respectively.
Improving transition
The Teacher Fellowship Scheme aims to support the interface between secondary and tertiary education and improve the transition for students from sixthform chemistry study to the first-year of chemistry degree programmes. To experience what students have to cope with during their first year the new fellows have been attending induction weeks, lectures, workshops and practical sessions.
UCL already has a successful transition programme. Using questionnaire surveys with students from UCL and Queen Mary, University of London, Sacht has collected data on the experiences of first-year students at the two chemistry departments. Using these data and working with UCL staff, she aims to develop a similar effective first-year programme at Queen Mary.
Prior to the start of this year's first-year teaching at Northumbria, Willis reviewed the year-one chemistry modules, mapping the content with that covered in the new chemistry A-level specifications. Based on her review, staff have updated the content and delivery of the first-year modules to bridge gaps in students' learning. Sacht and Willis are also visiting local schools and colleges to find out why AS students choose chemistry. This builds on work started by last year's Sheffield University teacher fellow Will Davey.
Based on discussions with first-year chemistry students at Newcastle on the foundation maths course delivered by the faculty's maths staff, Hoare is running extra maths tutorials which present maths in chemical contexts. These have proved popular and he is working on plans for a maths for chemists course.
David Brentnall, based at Nottingham University, is fortunate to receive funding through the scheme for a second one-year placement. In his first year Brentnall carried out a review of the skills first-year students arrived with and need on starting a degree. This led him to develop a new module on managing student learning which he will be running this year. He is also looking to extend support for students learning new practical skills through a distance-learning resource, delivered for example via the university's virtual learning environment. Other new ideas from Brentnall include a wiki-type website where groups of first-year students from Nottingham, Newcastle and Northumbria can discuss, explain and develop ideas about the chemistry they meet and podcasts, produced by second-year students, that highlight and explain difficult topics in the first-year modules.
Outreach activities
The teacher fellows are all involved with outreach activities run by their host HEIs, eg spectroscopy days for sixthforms run at the universities. Willis and Hoare are working on a collaborative project to develop a roadshow aimed at Year 7-8 students. The Chemistry in a shopping basket roadshow will be a mix of interactive activities and demonstrations. 'We'll show the students four familiar items from a shopping basket and ask: what's the chemical link?', explains Willis. The roadshow will conclude with a talk on careers for chemistry graduates. Willis and Hoare hope to start touring the roadshow in schools in the Newcastle and Gateshead regions in February and they will run special shows at their universities during National Science Week.
Also of interest
Details of project areas and outcomes.
References
Educ. Chem., 2007, 44 (4), 101