Dr Michael Hal Sosabowski, in the school of pharmacy and biomolecular sciences at the University of Brighton, is the latest chemist to join the ranks of the National Teaching Fellowship Scheme. James Berressem reports...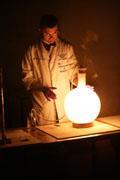 Dr Michael Hal Sosabowski of the University of Brighton has been recognised for his efforts in furthering the teaching of chemistry in the 2006 round of the National Teaching Fellowship Scheme (NTFS).
Now in its seventh year, the scheme recognises outstanding teachers or learning support staff in higher education in England and Northern Ireland. The initiative is managed by the Higher Education Academy and funded by the Higher Education Funding Council for England (HEFCE), as part of its Teaching Quality Enhancement Fund (TQEF) programme, and the Department for Employment and Learning in Northern Ireland.
The awards are based on the candidate's ability to inspire their students and enhance the learning experience, to inspire their colleagues in their teaching, and to demonstrate a reflective approach to their teaching. This year the NTFS advisory panel considered 242 nominations before selecting 50 new fellows. This year's award winners each receive £10,000, which they must use to develop further their teaching.
Hal Sosabowski - an exhibition chemist
Hal Sosabowski was one of six staff to win a University of Brighton teaching excellence award in 2005 and based on this was put forward as a nominee for the 2006 NTFS.
A principal lecturer in chemistry and pharmaceutical sciences, Sosabowski joined the school of pharmacy and biomolecular sciences at Brighton in 1995. Prior to this he had spent two years lecturing at the University of Natal in Durban. It was during this time that he developed an interest in doing exhibition chemistry, which is now his trademark and was the major theme in his NTFS application.
'I see my remit as promoting education and chemistry to the widest possible audience', Sosabowski told Education in Chemistry. And to this end over the past nine years he has developed and co-presented the Christmas chemistry magic show hosted by the university. Performing in front of an audience of ca 500, Sosabowski brings chemistry to life using elegant, spectacular demonstrations such as the exploding ostrich egg, methane mamba and phosphorus sun. His magnesium and dry ice sandwich demonstration, which produces a stunning white light, is a highlight. 'Once the lit magnesium turnings, which are boxed in by blocks of dry ice, have used up all the available oxygen the metal starts to reduce the CO2, prolonging the reaction. This is one occasion that CO2 promotes a fire rather than extinguishes it'.
More recently, Sosabowski's reputation for designing demonstrations with a 'shock and awe' factor has led him to appear on the Saturday morning children's TV programme Ministry of mayhem. 'The biggest challenge of reproducing these demonstrations on TV was retaining the impact of the chemistry. That and ensuring that the experiments worked first time on live TV'.
Inspiring non-chemists
Although Sosabowski teaches at all degree levels, a segment of the undergraduate teaching that he has 'made his own' is the teaching of chemistry to first-year students. 'Our undergraduates, biologists included, have to do a first-year chemistry course', he explains. 'Many of these are non-chemists who have chosen not to study chemistry beyond GCSE. They might find chemistry irrelevant and dull, and their goal is just to pass the module, rather than learn the chemistry for its own sake. My aim is to change all that by making the subject relevant and exciting so that they look forward to the next lecture'.
To make lectures interactive, varied and dynamic Sosabowski likes to convey chemistry through stories with the help of some props. 'In my Elements of chemistry module I use a "Periodic-Table-in-a-box", which contains a gram of each element (bar radioactives), to show the finite number of elements there are in the universe and their variety'. This student-focused approach has led students to describe his teaching as 'outstanding', 'an inspiration', 'even enjoyable'.
An entrepreneurial spirit
Admitting to a somewhat entrepreneurial spirit - he has an MBA and MA in marketing and lectures in the university's business school - Sosabowski has recently produced a Chemistry Trumps game. Based on the popular card game Top Trumps, the pack comprises 32 cards each presenting facts about an element on the Periodic Table. 'It's just another attempt to get children to interact with and learn chemistry in a fun way', he says.
Sosabowski will use some of his fellowship funding to ensure that the Christmas shows continue. As well as plans to develop new resources to excite students, he also wants to get some of his trademark demonstrations on the Internet as videos for teachers to download, along with complete risk assessments for each demonstration and information for teachers on how to do them in the classroom. He hopes that this will reduce the time teachers require to prepare the demonstrations, and thus encourage them to do the experiments in their classrooms. 'Much has been reported recently of the decline in student numbers choosing to study chemistry at university', he comments. 'My goal is to reverse this trend by influencing and educating young learners and by influencing and enabling our chemistry teachers'.
This year, being its 10th anniversary, the University of Brighton's Christmas chemistry magic show will be held on Wednesday 13 December at the Brighton Dome, with shows at 1.30pm and 7.00pm. Tickets cost £5 per person. Funded by the Royal Society of Chemistry, support is available to help teachers get student groups to the event. For further information and to apply for tickets contact Dr Hal Sosabowski.
(e-mail: m.h.sosabowski@brighton.ac.uk).